heavy duty staples is the one used in heavy duty stapler and are far more reliable than ordinary staplers. But what makes for their strength and durability in mediums upon which they are applied? The material strength of the constituent materials of heavy duty staples is one of the reasons why they can take on heavy duty roles. The elements behind the strength and synergy of heavy duty staple are the things we will discuss in the following lines.
One must, however, note that a heavy duty staple is completely useless without a heavy duty stapler to drive it into the medium upon which the staple is intended to be applied. This is why Rayson staplers are the very options you should consider for all of your heavy duty home and office stapler need. Rayson has staplers that cover a wide range of applications; staplers from Rayson are quite strong and durable, and this is why a Rayson stapler should be the first option to consider for all heavy duty stapling purposes.
The ideal heavy duty staple is made from steel. Because staples are usually small and sometimes tiny chunks of metals, the steel material with which the heavy duty staples are made is usually coated with Zinc to improve its strength and help its drive through mediums effectively.
You can get more information about the material of heavy duty staples on: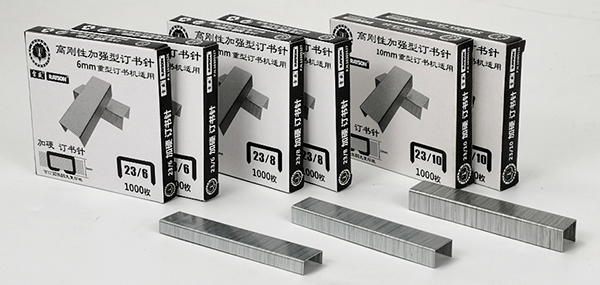 Sources:
1. staple -- Wikipedia
Originally published 15 Aug 2020, updated 15 Aug 2020.