A stapler SH-04 being a mechanical device has been of great help in joining papers and materials that are closely related, by inserting a thin metal like structure between them. When inserting the metal staple pins one is required to either fold the pages or papers at their edges.
Staplers are commonly used in the institution, Business, Government offices, schools, etc. Most staplers come into two different types; they can be manual or electric.
Manual staplers are commonly used physically by holding on a desk or a hard surface .The main function of an stapler SH-04 is to join large numbers of paper sheets rapidly. They usually have a capacity of stapling up to 60 sheets at a time. It is a professional and a multipurpose stapler.
From the appearance of the stapler SH-04, it is a professional heavy Manual machine that has a steel body, safe and free from voltage limits.
Stapler SH-04 being a multipurpose machine, it uses a flat nail or saddle stitch.
Stapler SH-04 has a weight of about 3 kg and is capable of using a variety of staple size such as 23/6, 23/8, 23/10, 24/6 , 24/8 , 24/10. Due to its nature, it is capable of stapling books, magazines, catalog and many other things. It has a lever handle that enables one to make stapling easier and effortless. It has also an adjustable paper guide that helps in the accuracy of positioning documents and catalogs. It has also an extended character of easy bench mount and a large clamp.
Stapler SH-04 has a variety of advantages one of which is capable to saddle and flat.It is a stable machine and secures which helps to ease its use. The advantageous character is facilitated by its folder desktop design within its structure. The metal-like steel structure helps it increase durability and facilitates ease in changing the wearing plate. The stapler can saddle 30 sheets, flat 60 sheets and a load of containing 200pcs staples per time.
SH-04 stapler has a non-skidding rubber strip which helps to increase stability when operating. Due to its manual operating nature, it has some slow effect since the work is done is determined by human power to sustain the work in progress.
Staplers have continued to evolve and adopt the increasing demand for labor work in offices, Institutions and many professional places. Heavy, modern and reliable staplers such as the stapler SH-04 were invented to help solve the problem of attaching many copies at the time hence reducing time and labor at a given percentage, thus also the use of staplers has increased the efficiency in the amount of force the user needs to apply.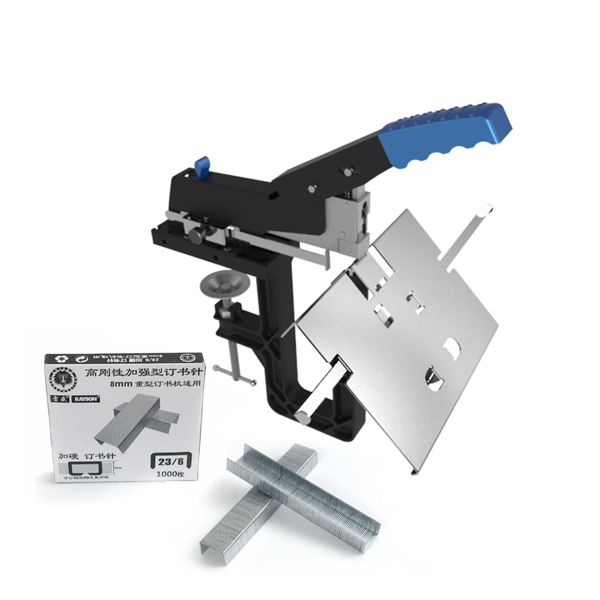 Originally published 07 Aug 2019, updated 07 Aug 2019.