Creating high-quality professional papers is simpler than ever with a plastic comb binding machine. Not only can you produce the original file without difficulty, but you can also add or remove pages to upgrade the record in the blink of an eye. No more replicating the entire publication for one or two changes!
Plastic Comb Binding Machines Are A Money-Saver
The price is reasonable when you binding documents with a comb binding machine and it really easy to re-use. Even in the event that you will need to purchase new comb components, you'll still save since they cost only little money each.
In addition, the plastic comb binding machines are also quite affordable just like the heavy duty stapler, and some other budget friendly office equipments. Therefore this binding procedure is a great selection for anybody who's just begun binding their particular files at home or in a company.
Unmatched Adaptability
The comb binding method is the best choice, no matter how big your document is. Plastic combs operate too on small files of 3/16 of an inch because they do on papers as many as 2 inches thick. What's more, a plastic comb binding system can manage different kinds of binding, and that means it is possible to get a wide selection of finished styles with a single piece of equipment.
Even after the document is bound, you still have choices because the this machine can be opened and closed without harm, so you are able to include or remove document pages and swap covers.
The procedure could not be easier. On a manual comb opener, the bound document slides down onto a rake which aligns the document back. You then just pull on the handle to open the comb's fingers, make your adjustments, and push the lever to close the binding: no crimping, no trimming, no winding.
An added plus is that comb binding lets your files lie flat when opened for easy copying.
A Wide Variety of Options
Plastic comb binding is not only versatile, but it's also available in a huge variety of colors so that each document you bind could be as distinctive as you need it to become. Colors include black, white, blue, green, red, and yellow, and custom colors are also offered.
The plastic spines give you the ability to use exactly the same kind of binding for small in addition to large files without the extra price of technical binding materials.
This binding has been around the same as the some other binding component, so it's no problem to find a plastic comb binding machine and binding supplies in local office supply shops and box stores at a fairly decent cost. In fact, it's the one of the binding machine you will find for sale in retail stores.
Should you have to update a great number of comb-bound documents? I think RAYSON comb binding machine can help you.
If you will need a binding machine that features flexibility at a wonderful cost, RAYSON comb binding SD-220B is your very best option.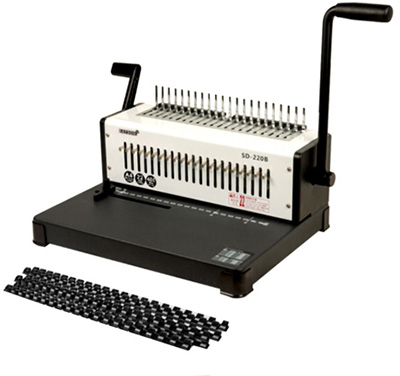 Originally published 05 Aug 2019, updated 05 Aug 2019.