Nowadays, information is proving to be a valuable asset. As such, there has been an increasing need to secure sensitive, private, or confidential documents, particularly those belonging to private individuals, enterprises, and government institutions. Unwanted paper records are no longer just thrown in the garbage bin; they are first stripped into tiny pieces to prevent the written information from being decoded by malicious parties. This is a job for machines such as the Rayson A606B paper shredder. With other shredders available on the market today, why should you pick this one in particular?.
Advantages of Buying the Rayson A606B.
This A606B shredder from Rayson features a lift-off head or shredder with a bottom bin where the shredded particles are collected. The design is workable for both home and office setting. What's more, the shredder comes with a 10 liter or a 2.65-gallon waste bucket. This saves you the time you waste emptying the shredded paper strips after use. What's more, operating the Rayson A606B paper shredder is a straightforward task thanks to its simple 3-mode switch comprising of On/Auto, Off and Reverse.
Paper documents are not the only thing you may want to get rid off to avoid identity theft. Luckily, the Rayson A606B is specially designed to help you shred .Moreover, it's a plug-and-play type of machine, which means that you simply need to plug it into a socket and you're good to go! Another good thing about the Rayson A606B is that you can use it either at home or in the office.
Made of solid PPS material, the shredder is strong enough to withstand high impact. The plastic shell is also long-lasting thanks to its anti-rust and scratch resistant properties. Known for its exceptional electric stapler, Rayson designed the A606B shredder with safety in mind to protect you from the sharp blades. Expect to find several safety features, including an electronic safety sensor, which is positioned in the paper entry area. Upon detecting fingers or hands next to the opening, it instantly shuts off. Other features include overheat protection. The shredder comes with a reverse mode that prevents paper jam, which occurs when the motor cannot continue processing the amount of paper you feed to it. This feature causes the blades to move in the opposite direction, allowing the stuck papers to roll out of the machine.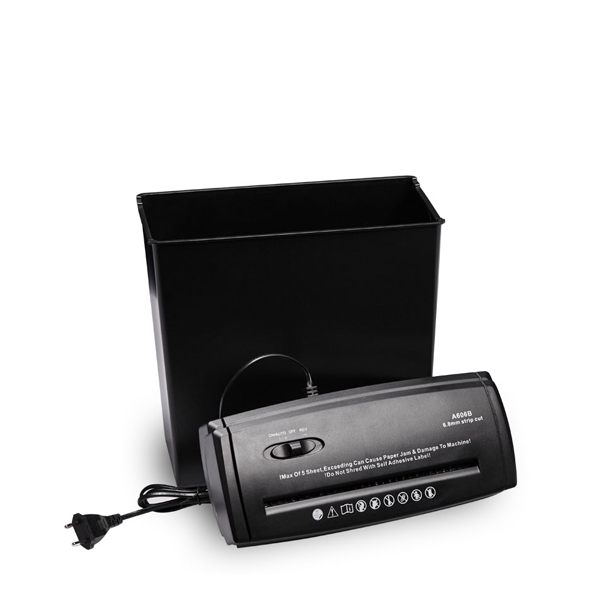 Originally published 01 Sep 2019, updated 01 Sep 2019.