Binding is one of the most common activities done in most paper work companies. You might be wondering on the right way to handle a binder. In order to know the right ways to handle a binder you need to have some have some knowledge on how a binder operates, its structures, how to maintain and its structures. Binders have been widely used all over the world due to their stylish and professional service offered by the machines. Due to the frequent us of binder, this led to the increased demand of invention of more binding machines. There are many types of binding machines one of them being the Rayson press strip binder JD-13+.Press strip binder JD-13+ is a professional machine that is created with good features that favor anyone that uses the machine.
It is made from metal that provides maximum stability while binding.This machine comes with a handle that help in binding documents and reduces too much effort while binding.Rayson press strip binder JD-13+ is made in a unique way such that it has an adjustable margin that helps to accurately place a document for binding.
Rayson JD-13+ Press Strip Binder has non-skidding feet that help to create stability when binding document. The metal used in making press strip binder JD-13+, increases the life span of the machine hence reducing the cost of frequent repair.Due to its unique nature the heavy duty machine is capable of binding 13 sheets of papers each weighing 80g per punch.This machine has been made in a way that it allows the user to punch and at the same time bind in a simultaneous way.
Rayson press strip binder is environmental friendly, such that it is professionally made with a waste bin that is below it structure.This waste bin is made easy and user friendly to ease cleaning and emptying of the waste bin.
Every product has some requirement that need to be satisfied for it to work effectively. There are different machines from Rayson such as a stapler. A stapler requirement would be different from that of Rayson JD-13+ Press Strip Binder that's why it's always advisable to learn the features of every machine before use.If you are struggling to get your documents and booklet folded, try Rayson JD-13+ Press Strip Binder, it's the choice you will never regret to have made.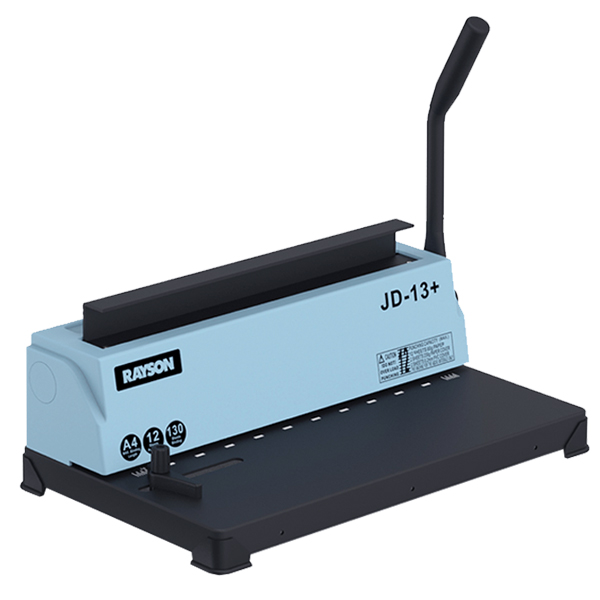 Originally published 17 Sep 2019, updated 17 Sep 2019.