High-quality saddle / heavy duty stapler is indeed designed with advanced technology so that it gives you smooth stapling. Though jamming stapling machine is less likely to happen. If you want the stapler jam free, there are three tips you must know:
1.You should choose right and good quality staples to match your high-quality heavy duty stapler. Cheap staples that are made of thin, softer wire and have blunt points are most likely to bend, crumple and fail to penetrate the layers of paper. So don't forget the quality of the supplies for a heavy duty stapler.
2.Harder paper also resists the staple and causes crumpling. So don't forget the type of paper you choose for stapler.
3.Correct operation. Causing the stapler to move or apply pressure at an angle, instead of punching the staple straight into and through the paper, also causes crumpling and jamming. If you are in a hurry or hold the stapler at the wrong angle, the staple can easily get caught in the stapler release hole on the head.
When you understand these points, it is time to choose the right stapler and supplies you need. The best heavy-duty stapler or saddle stitch stapler can totally handle large stapling jobs without requiring a great deal of physical effort on your part, since they're designed to provide increased leverage that makes stapling much easier. These types of staplers are larger than a traditional stapler and are therefore best suited for use in your home office or workplace.
When picking out a heavy-duty stapler, the main consideration is whether to go with a manual or electric option.
A manual heavy-duty stapler requires users to press on a handle in order for the staples to be released. While this requires minimal effort, this type of stapler may not be ideal if you need to use it repetitively, since it could get tiring. A manual heavy-duty stapler is often the cheaper option.
An electric heavy-duty stapler requires electricity in order to operate, so make sure that you always have an outlet nearby (some picks also operate on batteries, too). The good news is that this pick requires very little effort by you; simply line up the papers and the machine will do the rest of the work. It's worth noting that electric heavy duty stapler usually can't handle quite as many pages as a manual pick, so if you want to staple hundreds of pages at once, you might have to opt for a manual option.
Heavy-duty manual stapler can staple just as much paper as an electric stapler. The advantage is with the speed. An electric stapler is capable of stapling much faster than a manual stapler. If you will only be stapling on an occasional basis, a manual stapler may be all you need. Electric stapler is great if you staple on a daily or even weekly basis.
When you use a stapling machine, first you need to read through the instruction manual carefully for knowing clearly that how you need to operate the device, loading the pin, and maintain longevity. If you want to know what size of staple pins your device needs, you may look through the instruction or the stapler package. There you will find the right staple pin size. The right steel staples can help you to get the best performance from your stapler and prevents jams and eliminates paper tears and wrinkles.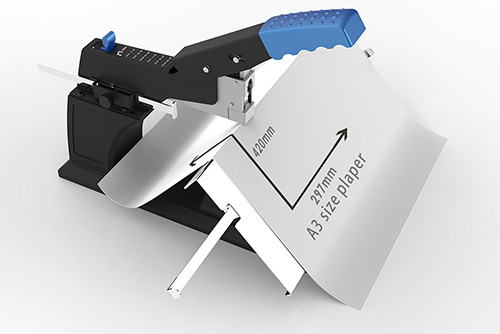 Originally published 11 Apr 2020, updated 11 Apr 2020.