THE STAPLER
A stapler is a piece of office equipment for attaching documents and other materials. There are many kinds of staplers in existence. The types of staplers that exist vary depending on their applications. Staplers offer one of the most unnoticeable, but salient services to office processes across the globe. As of today, it is almost impossible to find an office that doesn't use a stapler for its processes.
Rayson is a twenty-first-century stapler manufacturer. Rayson majors in making heavy duty staplers. The staplers of Rayson are affordable, and this company offer a unique range of stapler solutions to processes across a broad niche of industries.
The Rayson heavy-duty stapler ST-102 is one of the stapler inventions of the Rayson company, and this is a review of the product.
OVERVIEW OF THE RAYSON ST-102 HEAVY DUTY STAPLER
Rayson ST-102 is an exclusive invention of the Rayson company. This heavy-duty stapler invention is designed especially for joining cartons. This stapler does not just effectively staple cartons; it also has the aesthetic design, which, according to the Rayson website, makes it a "simple beauty".
The design of this stapler makes it a flexible one as it can adjust staple strength to fit into a variety of carton thicknesses. The Rayson heavy-duty stapler ST-102 comes with a metal clip with which it can be attached and dismantled across a variety of mediums. The metallic clip of this stapler makes it flexible as it can be moved around easily.
The heavy-duty Rayson stapler ST-102 Comes with three packs of heavy-duty staples with which its user can start stapling operations with this stapler.
SPECIFICATIONS OF THE RAYSON ST-102 HEAVY DUTY STAPLER
The specifications of this stapling device are highlighted below:
◉ Size:
Height: 13.5cm
Width: 30cm
Thickness: 48cm
◉ Appearance
Rayson ST-102 heavy-duty stapler comes in a metallic body wrapped in two colours: white and black.
◉ Stapling Capacity
Flat stapling (Arbitrary): 40 sheets at a time
◉ Power Source
Electricity
◉ Market rates
This heavy-duty stapler cost four hundred dollars ($ 400) on the Rayson website. Those interested in purchasing this product can order it from the Rayson website.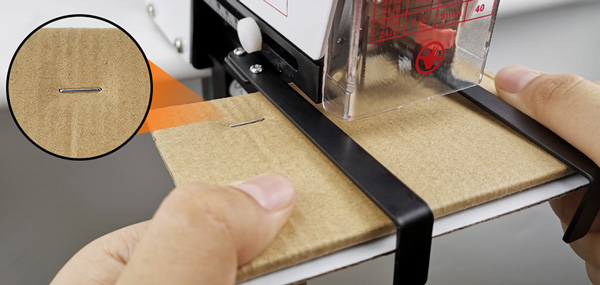 Originally published 20 Jun 2020, updated 20 Jun 2020.