All types of businesses certainly create advertising or marketing strategies today to capture the attention of the people and one of the most common form of marketing strategy today is giving out leaflets or brochures. Now, every company will most certainly create hundreds or even thousands of leaflets and making and folding and binding each of these manually is truly exhausting. The reason why you should include a creasing machine or heavy duty stapler in your office supplies.
What is a creasing machine?
These are machines that folds papers making the said task hassle-free for the company and its employees. A creasing machine will certainly be very beneficial if you are planning to handout a digitally printed brochure or pamphlets because this machine will do a professional finish without cracking or damaging the brochure that you have printed.
What are the types of documents that needs a creasing machine?
There are surely various types of documents that you will want to be folded using a paper creasing machine so that it will have a professional finish and so that your document will be presented in a professional and beautiful way. Now, some of these documents that you may want to be folded using a paper creasing machine are the following:
- Brochures to be used for meetings
- Envelopes that holds important information
- Signs that you can use for your break room or other areas inside your office
- Presentation materials that you may need in your meetings
Surely, your office is using any of those documents frequently, hence, it is truly highly recommended that you include a paper creasing machine as one of your important office supplies for a faster and more efficient work.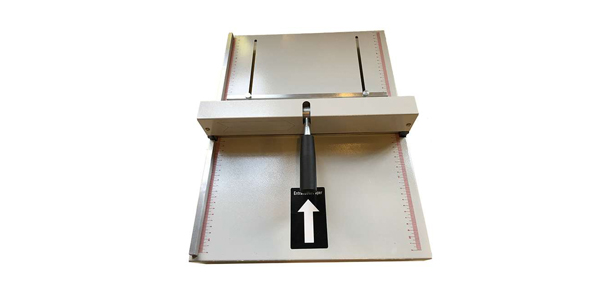 Step by step instructions on how to operate a creasing machine
Using a creasing machine is very simple and below, you will be taught about the right way to use it so that you can do your job faster and perfectly.
1. The first step that you have to do is to fix the creasing position.
2. Set its aluminum bar to the correct place.
3. Place the paper in the secured aluminum bar and see to it that left margin is in its correct position as well.
4. Crease the paper by pressing the handle.
5. If necessary, you may adjust the creases to make it deeper by rotating the metal flake. Doing that may be needed if one portion of the paper has a shallow crease than the other.
6. You are done creasing your paper.
How much do paper creasing machine costs?
The value of every creasing paper machine will most certainly depend on the features that comes with it. For reference, Rayson company, who also manufactures great heavy-duty staplers, has 2 kinds of creasing machine. The CM-350-RAYSON model is sold at a cost of $270. Its feature includes a maximum creasing length of 19 inches (480 mm) and this model is mostly used for creasing invitations, cards, tickets, book cover, or RSVP replies.
On the other hand, the more expensive paper creasing machine is the CM-480-RAYSON model is sold at a cost of $298 which can has a maximum creasing length of 14 inches (350 mm) and is perfect to use for coated papers, specialty papers, photo papers, films, or any digital color printing or coating materials.
Originally published 08 Jan 2021, updated 08 Jan 2021.