Staplers have been in existence since the early 1800s and are meant for attaching things. There is a variety of staplers in today's market ranging from simple saddle staplers to heavy duty staplers. Saddle heavy duty stapler is a bookbinding tool designed to insert staples into the spine (saddle) of folded printed matter such as booklets, catalogues, brochures, and manuals. A saddle heavy duty stapler is with flat stapling and saddle stapling function and may also be used to staple fabric or other flexible material, as the material is bunched up inside the throat in order to reach the seam to be stapled. Most high-end photocopiers and digital production printers on the market have optional attached saddle stitch units that fold and staple booklets automatically.
Different factors influence people's choices in getting the best stapler for their needs. Design is one of these critical factors. But what exactly is a good design of a heavy duty stapler?
Rayson is one of the best heavy duty stapler producers worldwide and we adopt a unique design for all our heavy duty staplers. What makes our design stand out, is the modern outlook that supports double performance mode. These include both flat and saddle stapling
Our best picks include the Rayson SH-03, SH-03GT, SH-04, and SH-04G that are largely manual and the Rayson ST-100, ST-100G, ST-105, ST-105GT, and ST-102 that are electric versions.
Manual staplers are very suitable for home and office use. They have multiple designs and are the cheaper of your two choices. They can staple staples into many pages, but they do require your physical strength to drive the staples through a stack of paper. They are more suitable for smaller and infrequently used environments, and repeated use within a short time may cause stress.
Electric staplers are more suitable for larger jobs (will also handle smaller jobs). Using manual models, you are using your own power. For electric models, there is an attached motor that drives the staples into the paper. They usually have the ability to load staples of different lengths, allowing you to drive staples through large piles of paper.
Electric staplers are more expensive than manual staplers and use power to drive staples, but make stapling easy and fast.
All designs have an inner rail for enhanced performance.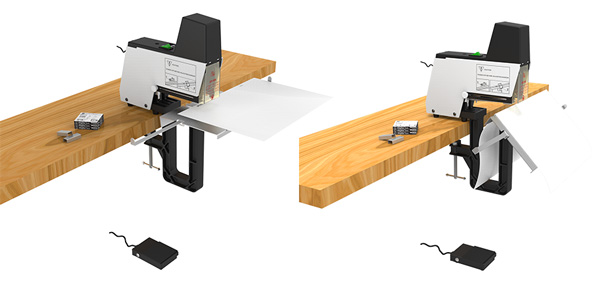 Originally published 04 Jul 2020, updated 04 Jul 2020.