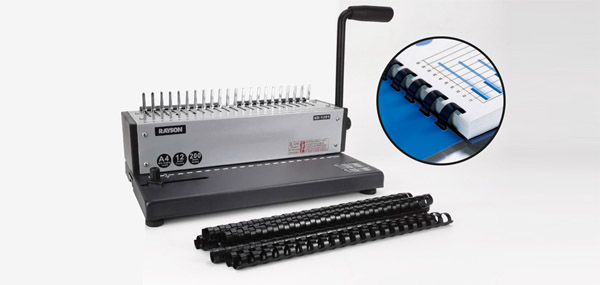 THE BINDING MACHINE
Binding machines are a piece of office equipment used to hold large chunks of documents in one piece. There are a lot of binding machines depending on their applications. The application of Binders come in place to ease the role of heavy duty staplers in the work process of many industries, especially the bookbinding industry. The binding machine punches a series of carefully (and linearly most times) arranged holes into the edges of the documents that are to be bound and passes a plastic material (called Binding ring) through the holes in order to hold the sheets together.
Rayson specializes in making office and home equipment which ease processes. Asides heavy duty staplers, Rayson also makes a range of binding machines. Rayson SD-1201 is one of the comb binding machines of the Rayson company, and this article is a review of the item.
OVERVIEW OF THE RAYSON SD-1201 COMB BINDING MACHINE
The Rayson SD-1201 comb binding machine is one of the products of the Rayson company. This binding machine can bind as many as two hundred (200) sheets of paper at once, and it can punch as much as twelve (12) sheets at once. With a setting to adjust punch depth, users of this comb binding machine can restrict the depth of holes punched in projects.
This binding machine comes with a steel handle encased in a black and white body. The design of this binding machine allows it to establish a firm and stable base which guard against skidding.
The binding quality of this machine gives a high-quality professional touch to binding operations, as it gives the documents a neatly arranged outlook.
SPECIFICATIONS OF THE RAYSON SD-1201 HEAVY DUTY BINDING MACHINE
The specifications of this binding machine are highlighted below:
◉Size:
Height: 27.5cm
Width: 18.5cm
Thickness: 41.5cm
◉Appearance
This binding machine is made of wire material and comes in a black and silver colour body.
◉Binding Specifications
Number of holes: 21
12 sheets punching capacity
Punching size: A4 sheets
Binds up to 200 Sheets
Binding rings: 22mm maximum size
◉Power Source
Manual
APPLICATIONS OF THE RAYSON SD-1201 HEAVY DUTY COMB BINDING MACHINE
◉Proposals
◉Presentations
◉Handbooks
◉Reports
◉Office documents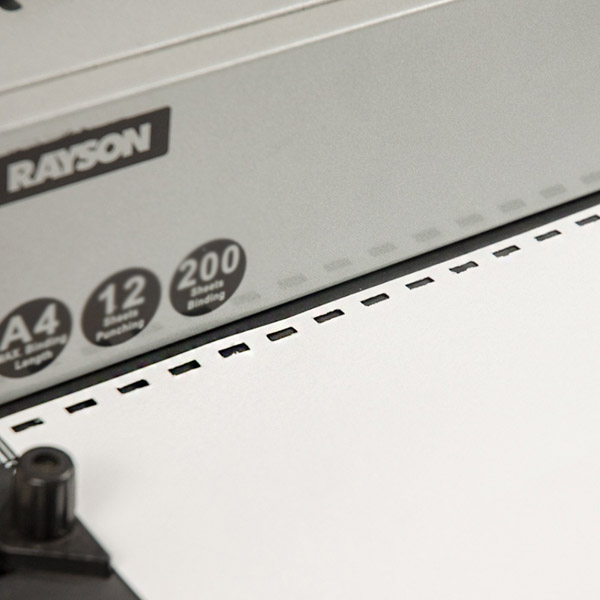 Originally published 16 Jun 2020, updated 16 Jun 2020.