Stapling can be an excessively troublesome activity for office workers. However, Rayson has numerous staplers to help with that problem. All you have to do is to choose between a heavy duty stapler and a desktop stapler. If we talk about the binding capacity of the SH-03GT heavy-duty stapler it is greater than 50 sheets of ordinary copy paper or hard cardboard. It can easily staple materials such as film and wood chips.
An ideal heavy-duty stapler for large binding needs, and can swiftly staple a large number of sheets of paper. Also, SH-03GT comes with two different stapling modes. Firstly, with the help of flat Stapling around 60 sheets of 20 lb can be stapled at a time. Whereas, with saddle stapling up to 30 sheets of 20 lb paper per time can be stapled.
Fast-paced workplaces need such an excellent heavy-duty stapler for frequent use. It is easy to operate and use and is made of an alloy die-cast, metal structure. These are extremely strong and durable.
In contrast, desktop staplers can easily fasten up to 25 sheets of 20 lb paper at a time. Some even have a stapling capacity of up to 70 pages. They are available in a wide variety of colors & styles. They are great for everyday use as well as simple office work. These are efficient, durable, and are known for their outstanding performance. In simpler words, a desktop stapler is used for everyday work, in contrast, a heavy-duty stapler is used for stapling and binding thick bundles of paper or other materials.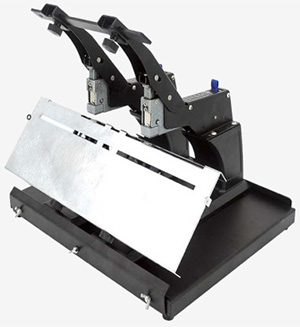 Originally published 14 May 2020, updated 14 May 2020.