Using a spiral coil binding machine you can add energy and colour to any business document. Your pages can rotate 360 degrees allowing the document to be folded back on itself or opened flat. Spiral Binding is also known as Coil binding and are reasonably priced and readily available. This binding style is known by a number of names including spiral binding coil, color coil, plastic coil binding spines, spiral binding, metal coil binding spines and coil bind. Spiral binding is ideal for binding cookbooks, notebooks, presentations, or any book that requires complete rotation.
Coil binding comes in two different hole patterns. These include 4:1 pitch and 3:1 pitch (found here). The 3:1 pitch coil binding ring means per inch has 3 holes and 4:1 pitch means per inch has 4 holes. (This is very important distinguish 3:1 from 4:1 cause the things to be as different. They are used with different binding machine.)
For many reasons, the most popular spiral binding coil used today is plastic binding coil. But some people also like the older type metal binding coil. Here are some of the differences between the metal and plastic coil:
Metal Coil: As a general rule, the metal coil is used on an industrial level for binding things like spiral notebooks for ruled paper. Some metal spiral binding allows to bind documents up to 460 pages. Adding or removal of additional pages is quick and convenient. Metal coil is usually a shiny metal, silver or chrome color, although colored metal coil is available. One reason many people and businesses are moving away from metal coil is because it tends to bend easily, making page turns more difficult.
Plastic Coil: This type of coil is used by most businesses and for home binding purposes for document protection. It is also beginning to find its way into more industrial binding applications for spiral notebooks. Plastic coil does not bend, good for document protection, making it far more long lasting and durable than metal coil. Black is the most common color, although white and clear are other popular colors. You can buy plastic coils in a variety of colors including blue, green, brown, yellow, orange and much more.
From an environmental perspective, using a metal coil is better than PVC. The metal from spiral bound notebooks can be recycled with other household metal, but you will have to take it to a recycling center rather than recycling it curbside. You can also try to repurpose it in the shop or garden. The plastic from a spiral bound notebook will need to be thrown away. But don't worry, there is no effect to decide which binding coil you should choose.
As the most popular binding method used today, Spiral Coil Binding Machine is available in either manual or electric punch. An electric punch machine is more common in the office and school marketplace as it alleviates operator fatigue on larger binding jobs. The punch capacity of the spiral coil binding machine is important also. If your metal or plastic coil binding jobs often contain numerous pages a larger punch capacity will be benefit you greatly. If coil binding twenty 100 sheet presentations you'll need to punch your paper 200 times with a 10 sheet punch machine as opposed to 80 times with a 25 punch capacity coil binding machine. As you can see this is where an electric punch model is extremely helpful.
Anyway if you don't need to rotate 360 degrees allowing the document to be folded back on itself or opened flat you always can use a heavy duty stapler to bind your paper document. Heavy duty stapler is a mechanical device that joins pages of paper or similar material by driving a thin metal staple through the sheets and folding the ends. The binding method is usually selected by the function of the document before anything else. So if you want to know more about binding method please contact us for information on the difference binding machine.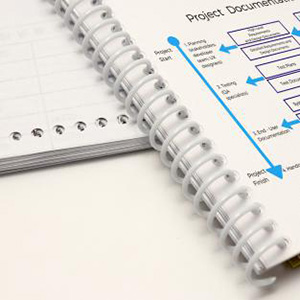 Originally published 10 Apr 2020, updated 10 Apr 2020.