Before one handles a binder,you may need to understand what is binding.Binding is a term used to express covering and holding pages of a booklet together.With that knowledge,a binding machine as the words suggest 'binder' it is a machine that uses poly binders to hold pages of a booklet together.The first ring binder was invented by German Friedrich Soennecken in 1886 in Bonn,a town in Germany.There are various ways of binding papers.This includes; the use of traditional metal wire, Plastic Comb binding and modern ways of biding.The modern ways include:Comb binding,Wire binding, Thermal binding,Coil or spiral binding,Click binding,Channel binding, Strip binding.
Wire binding is one of the most professional and secure way of binding papers.It allows for the rotation of documents while in use up to 360° rotation.
Rayson TD-2500 wire binding machine is a full-function binding system that is both flexible, durable and a reliable machine making it a unique machine to use.The TD-2500 wire binder comes with double handles which helps to ease punching of up to 25 sheets at a time.It has the capability to bind 200 sheets of different paper sizes of 80g. Rayson TD-2500 wire binder is a professional machine that is made of heavy-duty metal that's makes it powerful during its manual punching mechanism.This machine is fitted out with a four adjustable depth margin and has also a wire holder which helps during the insertion of a document.This margin adjustment helps to provide accuracy while creating punch holes on a paper.
Rayson TD-2500 wire binder loads a document vertically for good punch alignment.It has also non-skidding feet on the bottom of its structure that helps to create stability.As the word suggest ''professional machine'',it is created in such a way that it is environmental friendly hence it has a waste bin to store the paper scrap.This waste bin is easy to clean and empty.
These modern machines,has more advantages compared to their disadvantages.Office working machine such as heavy duty stapler due to their advantageous nature they can be used in both mechanical and electrical way.A stapler and a binder only differs' due to their use and purpose.After acquiring this knowledge of a binding machine one can now opt to choose the best binder for his institution or office work as compared to the above given characteristics.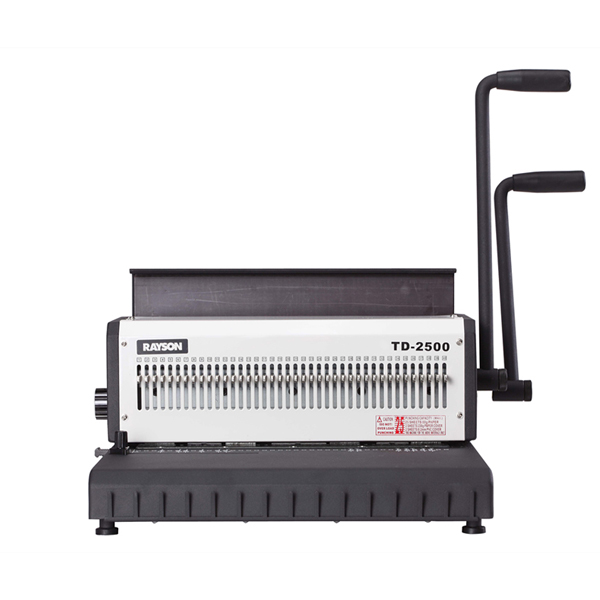 Originally published 26 Aug 2019, updated 26 Aug 2019.