Spiral Binding has turned into one of the most popular binding fashions. The flexibility, together with the huge assortment of colours, make it a favourite binding fashion for all sorts of organizations. Perhaps you've seen Spiral binding somewhere in the office and are thinking of a Spiral Binding Machine for your organization, RAYSON PD-1501 offers the finest Spiral Binding Machines on the market. Here are a couple of things that you want to learn before you rush out and get a spiral binding machine.
Just like when you want to buy a heavy duty stapler, there are also some tips you need to get the best out of a brand new Spiral Binding Machine, here are several tips for deciding on a good excellent system.
Smaller dimensions spirals are easy to work with, but larger spirals can be challenging. If you are likely to be binding larger books, make certain the machine you buy has the latest oval hole form. It makes the spiral binding easier.
Practically all spiral binding machines on the market are designed for some 4:1 pitch spiral Binding Supplies. This suggests that the gap pattern contains four holes per inch. Other hole patterns are available, but you will be much better off using the normal 4:1 pitch hole layout unless you've got a compelling reason to use a different pattern.
If you are thinking about utilising spiral to bind big size files, you will want to ensure you spiral binding machine includes an open throat.
The standard length of spirals come in 12 inches for 11 inches documents. The additional length is cut off during the spiral binding procedure. If you plan on binding files that are longer than 11", you need to give yourself at least a half inch preferably an inch to ensure that you have enough spiral to reduce off during the binding process.
Almost all of our spiral machines also have a pair of rollers in front or at the top of them for inserting the spiral in your file. These pliers are utilised to spin the spiral through the holes on the border of the document. Manual binding machines which do not have these pliers require you to twist the spiral onto the book by hand. For small runs, this shouldn't be a problem. However, for higher volume applications, turning the spiral onto the book could become very tedious. For this reason, it's typically best to buy a machine which has a spiral inserter or purchase a standalone spiral Inserter to go together with your punch.
Lastly, to make sure that the spiral doesn't spin back off your documents once they are bound, you will have to crimp the ends of the spiral. A number of our machines have a built-in crimping device, but most rely upon a special set of pliers. The pliers cut the extra spiral and bend the end in one shot. The bend at the end of the spiral prevents it from turning off the book. Making use of the pliers has a short learning curve and takes a little exercise.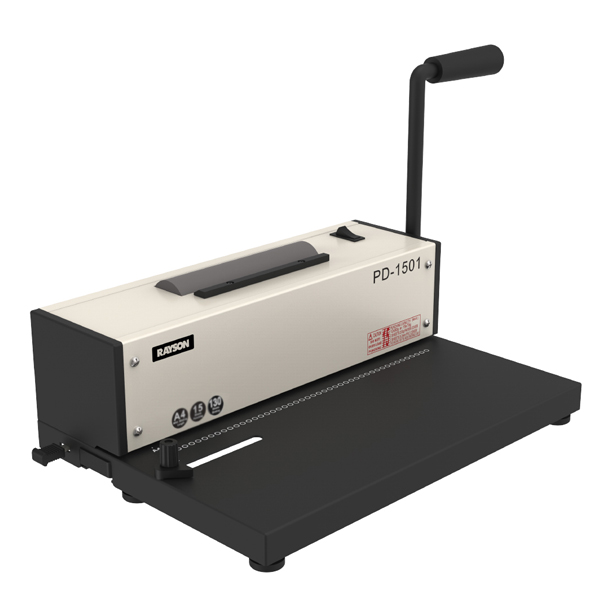 Originally published 08 Aug 2019, updated 08 Aug 2019.