When we organize the documents, we love working with efficiency. Heavy duty stapler is essential office, home and school equipment used for putting together documents by joining sheets of paper with staples. But an electric heavy duty stapler is generally faster than a manual model. It is also more powerful and can, therefore, punch through thicker stacks of paper.
When we use an electric heavy duty stapler, what should we pay attention to?
The safety recommendations outlined in an instruction should be read and understood before operating an electric heavy duty stapler. When using a RAYSON electric heavy duty stapler follow these basic safety precautions to reduce risk of fire, electric shock or injury.
Caution:
1. When unplugging the power plug, grip the plug to pull it out. Pulling the cord may result in electric shock, fire, or damage to the machine.
2. Do not use the machine if the cord is damaged. This may result in electric shock, fire, or other hazards.
3. Do not place objects on the power cord and do not bend it excessively. This may result in electric shock, fire or other hazards.
4. When not using the machine for long periods of time, unplug the power cord from the outlet.
5. When operating, place the machine on a flat, level surface. Do not place this product on an unstable cart, stand, or table. The product may fall, causing serious damage to the product.
6. Test stapling scrap sheets before stapling final documents.
7. Follow all warnings and instructions marked on the product.
8. The power switch must be turned off or the front flap must be lifted up before operating the adjustment of margin (the throat depth).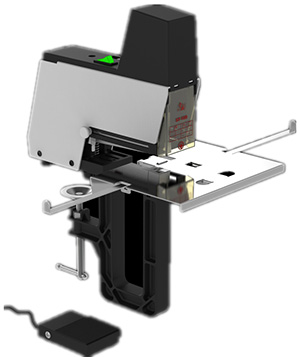 Originally published 06 Apr 2020, updated 06 Apr 2020.