Do you have a very important upcoming project?Does the project need some high quality,unique and elegant binding?Well, all you need to do is to relax as I have got the perfect solution for you. The EP-20 spiral binding machine from Rayson is all you need to meet your objectives. This spiral binding machine is ideal for use either in the office or at home depending on your preferences. This machine will help you to come up with affordable and unique professional-looking bound books which will definitely attract the attention of anyone who comes across them.
Time and speed is a factor that everyone considers before acquiring a new machine.It is obvious that no one wants to spend a lot of time on one project. This usually becomes uneconomical and also monotonous. The EP-20 spiral binding machine from Rayson will save you from all this stress and frustrations.
The EP-20 model is so fast and will help you save more time and energy. The high speed is majorly contributed by its ability to electronically insert plastic coils during the binding process. Customization and flexibility are also another very important aspect of any kind of a machine. This is one of the most amazing features that the designer of this machine did not forget to incorporate. The customization ability of the Rayson EP-20 model enables you to design customized bound books. You can actually customize the books according to your preferences and the purpose that the book is going to serve.
The mode EP-20 is easy to use just like the electric stapler. This machine has an electric coil inserter that contributes to the creation of high-quality professional bound books either at your home or office.The binding process using this machine is so easy and it does not require you to be an expert so as to perfectly use the EP-20 model. You should therefore not worry about any complications associated with the use of this machine since you will not encounter any. Another amazing feature of the Rayson EP-20 model is the presence of the margin adjustments.These adjustments enable you to bind your books regardless of their size and shape. It actually has side and depth margin adjustments and it is therefore upon you to decide where it will be appropriate to punch holes depending on the paper size.
This is indeed an amazing machine that you should definitely have in mind if you have an upcoming binding project.Try it and you will not regret.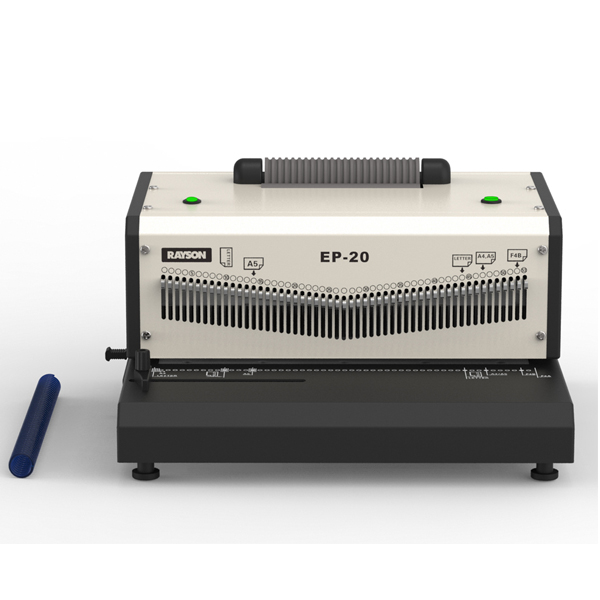 Originally published 24 Aug 2019, updated 24 Aug 2019.