Wire binding machines are very important equipment that you should not lack especially in an office set up. They are so essential and they help you in creating very nice and elegant items such as a book, a presentation or any other type of document. They actually add an element of professionalism to your documents. However, not all wire binding machines are the same, some are just more advanced and they make your documents look extra good. The model ET-25 from RAYSON is a perfect example.
It is quite common for one to experience a tough time while binding his or her documents. This process is usually time-consuming and you might find yourself taking much longer than you expected. Time is so precious and is one of the most important things that we should not take for granted. You should not experience this anymore when there is the ET-25 model out there. This model is so fast and this will definitely save you a lot of time. This is a heavy duty machine that is capable of binding up to 130 sheets at a single time. Despite its high speed, the ET-25 model is so efficient and it will definitely do a perfect job without any errors or complications. It is the wish of every individual to always be successful especially at your work place. Having the right type of working tools like the model ET-25 wire binding machine is one of the factors that will make you reach your target.
This wire binding machine is so efficient just like any type of RAYSON stapler. This machine is capable of punching 25 sheets. It can also make 40 holes of size 4x4. This feature makes this machine to have a large work output. In case you are using this model for business purposes then the large work output will definitely lead to higher profit margins and this will make the running of the business more economical. This machine is also flexible as it has adjustable margins of 2.5, 4.5 and 6.5. This enables you to produce any kind of document that you will prefer.
This machine has a wide range of applications as it can be used in government institutions, educational institutions, and offices and even for your personal use at home. This is a high-quality product which is so economical and can never let you down. You should definitely make your binding professional by using the model ET-25 wire binding machine.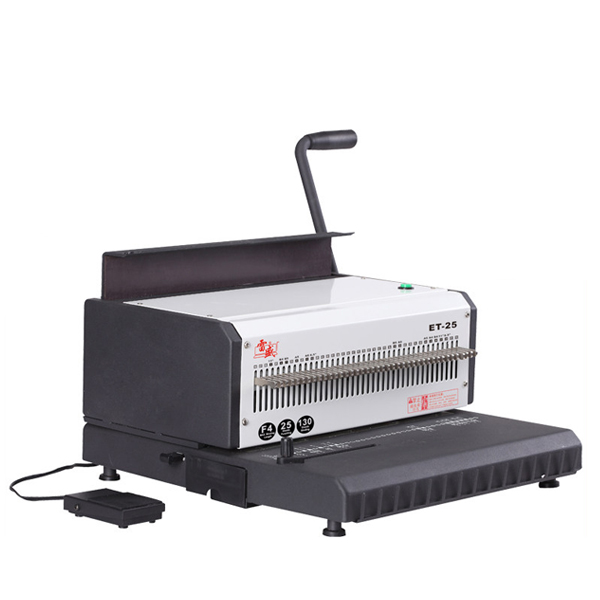 Originally published 13 Aug 2019, updated 13 Aug 2019.