You know how good it feels like when all your office paperwork just runs smoothly without any inconveniences and interferences. Well, I am pretty sure that is what everyone wishes for. It usually such a nice feeling to everyone as productivity will definitely be higher. Well, you have just found the right tool which is very efficient and will absolutely solve all your problems. The manual stapler from Rayson is one tool with very incredible features and it is absolutely amazing.
The manual stapler SH-03 has the combined features of saddle and flat. The flat stapler is capable of stapling 80 gsm (50 Ib) 60 sheets of paper at once while the saddle stapler staples 80 gsm 30 sheets of paper at a single time. This implies that it is a versatile tool that can fit in any particular environment starting from big government offices, businesses, homes to schools as the saddle mode has the capability of stapling pre-fold sheets hence easier production of booklets. Despite having this combined feature this model is super-fast in its performance and this is what everyone out here needs. It has the ability to resist any kind of jam since the inner rail is jam resistant and enhances accurate stapling.
This is just a wonderful idea that really shows the designer of this tool knew what was required of him and he never disappointed by exactly doing that. It is obvious that no one wants to be buying work tools each and every single time. This usually becomes too expensive and uneconomical and in case it for business purposes the profit margin can be very low. But you should not worry about this anymore; the SH-03 model stapler has got you. This tool has been created using metal hence making it highly durable to withstand any conditions that it might be subjected to. I even do not feel referring to this model as heavy duty is the right term it actually needs a bigger term than that which I cannot even think of. Have you ever acquired a machine and then end up not using it all because you are stranded on how to go about with it? Well, I am quite sure most people have experienced this. The developer of the SH-03 model had this in mind.
his stapler is very simple to use and furthermore, it is very easy to change wearing parts such as punching plate thus no specialist is needed to do this task. This stapler is so flexible because of its lightweight. One can carry it anywhere thus avoiding the rigidity of only working at one central point. Working with certain types of staplers is usually so hectic and one might end up having a severe headache because of the high noise levels produced. The SH-03 model is so quiet and it usually creates a conducive working environment. We recommended to use these staples 23/6, 23/8, 23/10 and 24/6. The 23/6 is specifically meant for a heavy duty stapler just like the SH-03 model.
I will definitely give this SH-03 stapler model a 5-star rating due to its stunning performance. I would recommend this stapler to anyone who needs a perfect stapling job done with no delays. I must admit that this is just the best stapler I have ever encountered.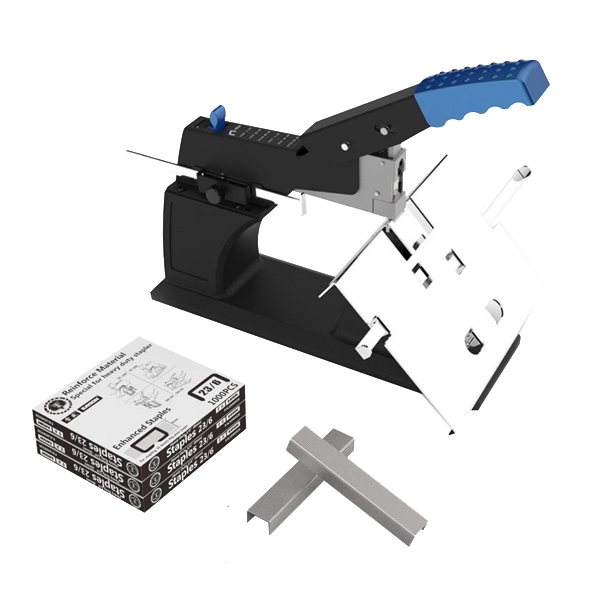 Originally published 04 Sep 2019, updated 04 Sep 2019.