Do you need an efficient and high-quality wire binding machine? Well,I have got the right answer for you. All you need to do is get the TD-1500B34R wire binding machine from Rayson.This model was created uniquely with so many amazing features that make it be one of the best wire binding machines in the market.
No one wants to do the same task for a very long time as it sometimes becomes so boring and time-wasting.A slow machine is so uneconomical as you might end up wasting a lot of resources with very little work done. If you don't want to experience such problems then you should consider acquiring the Rayson wire binding machineTD-1500B34R . This machine has the ability of manually punching up to 15 sheets of A4,letter size or below of 80 gsm paper at a time. Moreover, it can bind up to 130 sheets of A4, letter size or below of 80 gsm (20 lb) of paper at once. Despite its speed, the TD-1500B34R model is versatile and can be perfectly described as a 2 in 1 machine due to its binding and punching ability. Its versatility is also enhanced by the presence of releasable 1-34 punching blade suitable for working on any paper size. The depth margin adjustments that can be adjusted at distances of 3mm, 5mm, and 7mm are also key in ensuring the versatility of this model as you can control where the holes are punched on paper of any size. Portability is also another aspect that everyone considers when getting or planning to get a new machine. A portable machine is more preferred as you can do your job anywhere and at your convenience. The Rayson TD-1500B34R model is such kind of a machine. Its portability makes it ideal to be used either at your home or office and you can use it to bind your notebook or booklet. Using this machine guarantees your professionalism in your work because of thetwo-handle design that increases the binding efficiency. Moreover, it loads vertically to ensure accurate punch alignment. The accuracy of this model is the same as that of the Rayson stapler. The TD-1500B34R wire binding machine is also durable just like the Rayson stapler. This model is constructed using a durable metal construction that enables it to be used for long. The stability of this model is also well taken care of due to the presence of non-skid feet at the bottom. You will therefore not experience any difficulties during the binding process. The TD-1500B34R model is also environmental friendly as it is fitted with a waste bin at the bottom to store paper scrap. The bin can easily be opened and cleaned. You should not hesitate to acquire this wire binding machine if you need a nice job done.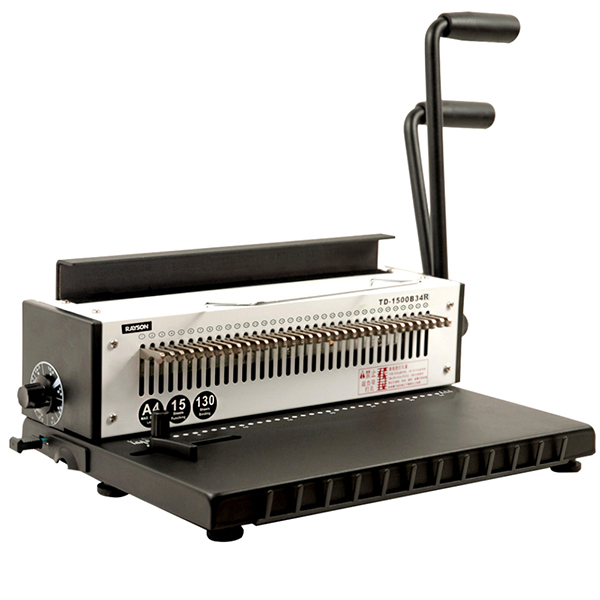 Originally published 27 Aug 2019, updated 27 Aug 2019.