Before handling any binder it is important to acquire some knowledge on binding and the machines used to bind. Binding machines were first invented in 1886 in Germany in a town called Bonn. Binding is a general terms used to express the act of covering pages together or a document. A binding machine is a mechanical device that uses poly binders to join pages of a booklet together. Having in mind that binding has been on use over a decade of years, this created invention of different types of binding which involved different types of binding machines. There are some ways of binding papers, this include; Comb binding, Wire binding, Thermal binding, Multifunctional Binding systems, Coil or spiral binding, Click binding, Channel binding, Strip binding.
Wire binding is a way of joining pages of a booklet together and it allows for the rotation of document up to 360° while in use. Rayson TD-2500 wire binding machine is a professional machine that is made to cater for full functioning binding system.
Rayson TD-2500 wire binding machine has 40 punching blades which enable it to punch up to 25 sheets of 80 grams in a single punch. This machine comes with a solid round steel double handle which helps to ease punching of documents. These handles also help to save time while punching bulky documents Rayson TD-2500 wire binding machine is made of a unique technology where the inside part and the outside part is made of metal . The metal increases durability and efficiency of the binding machine to a very high percentage.
Rayson wire binding machine due to its professional nature it comes with an oil cutting blade which is used to preventing rusting to the punch die. An oiled removing paper is used to prevent any stains from incurring to any important document while binding. This paper should be punched first before undertaking the task so that it cleans the blades.
After gaining all this knowledge and skills on the uses of different parts of Rayson TD-2500 wire binding machine, you are left to decide how fast you need to enjoy the presence of this binder in your working place. Different organizations have dealt with different machines form Rayson such as a stapler, and they have found to have benefited a lot from these products. Make haste and enjoy the binding product wire binding machine TD-2500 services.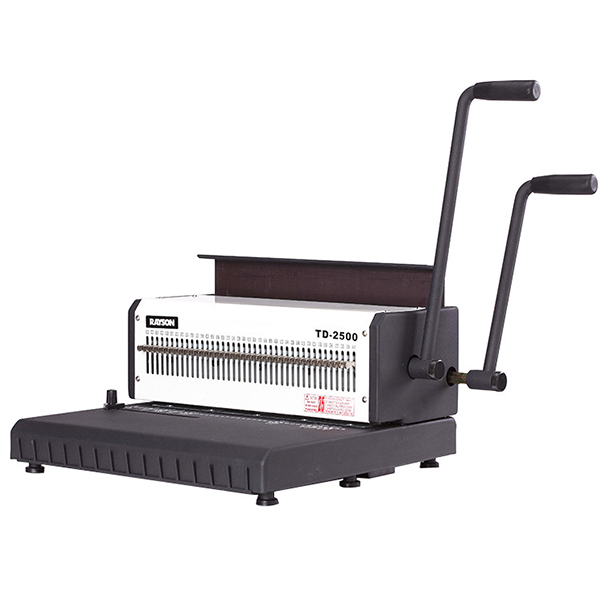 Originally published 20 Sep 2019, updated 20 Sep 2019.