The Rayson TD-200 wire binding machine is a high-quality machine that is suitable for use in the office and school. It is one of the best wire binding machines that will never let you down. This is due to various modifications that have been made on this machine hence making it more efficient than other ordinary wire binding machines.
One of the features that make this model outstanding is the strong construction that makes it more durable. This machine is constructed using a tough metal that is able to withstand all unfavorable conditions. This compact construction makes this machine to be best described in two simple words which are 'heavy-duty'. The durability of this machine can actually be compared to the Rayson stapler. The punching mechanism of this model is also one of a kind. Well, the Rayson TD-200 wire binding machine has the ability to punch up to 20 sheets of 80g of paper at a single time. Its binding capacity is also fascinating. It has the ability of binding 130 sheets of 80g of paper.
This model is user-friendly and this is an assurance that you will not have to scratch your head and waste a lot of time just because it is too complicated. One of the features that make this model simple to use is the two-handle design that boosts the binding efficiency. This model is so efficient just like the Rayson stapler and acquiring it will make your binding process to run smoothly. It is actually a feature that everyone looks at when acquiring a machine and theTD-200 model is a perfect example of such a machine.
This model from Rayson is so versatile and you can use it to bind any type of paper, notebook, and booklet due to the presence of a releasable 1-40 punching blade ideal for various paper sizes. The accuracy of punch alignment for this machine has also been enhanced due to its ability to load vertically. The stability of the Rayson TD-200 wire binding machine has also been well taken care of due to the presence of non-skid feet on the bottom. This model gives your paper, file and other documents a professional binding look due to the presence of the fixing mount that can fix the position of the document that you are working on.
This machine is also friendly to the environment since it has a waste bin at the bottom to store paper scrap. This bin can easily be opened and cleaned. You should try the Rayson TD-200 wire binding machine if you need your binding to appear professional. It never disappoints.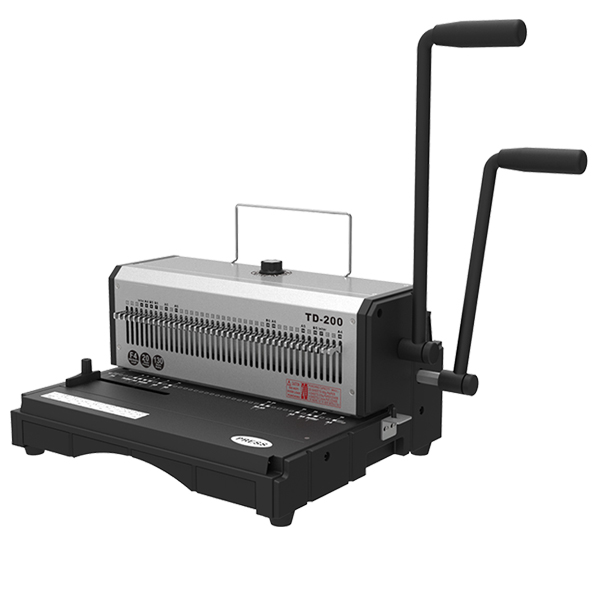 Originally published 11 Sep 2019, updated 11 Sep 2019.