Are you in need of professional, unique, elegant and stylish presentations, workbooks, handbooks, proposals, and several other office and classroom documents? Do you need this work done at your own convenience? Well, this is exactly what model JD-1300 press strip binder from Rayson does. This is the best binding machine that will perfectly meet your binding needs. Its efficiency and work output are just the same as that of the Rayson stapler. This model actually has the capacity of being referred to as a heavy-duty machine due to its work output capabilities together with its other amazing features.
It is usual that no one wants to acquire a slow machine that cannot effectively handle increased volumes of huge workloads. A slow machine will definitely have a very low impact in your office or school work as there will be a high chance of more work piling up. You have to trust me that this will not solve any of your problems. In fact, you will be more frustrated.
The Rayson JD-1300 press strip binder is considerably fast and will not give you any of these challenges. This binding machine has the capability of manually punching up to 13 sheets of paper at a single time. This is quite a good speed that gives you an assurance of properly managing your binding tasks. Have you ever acquired a machine that ends up giving you a very hectic time just because it's too complicated and you cannot effectively use it? Well, if you never had such an experience then you should always try to avoid it at all costs. You can actually avoid all this by acquiring an efficient but simple to use machine.
The Rayson JD-1300 press strip binder is a perfect example of efficient simple machines out there that do not require any expertize so as to effectively use them. The easy-to-use design of this machine gives you a chance of punching and binding pieces of paper in a continuous manner. The machine also makes your work so organized and professional by ensuring a precise alignment with each and every document that you bind.
This is a feature that the JD-1300 model has. It can actually be described as a puncher plus binder two in one machine for binding papers and booklets either at your home or office. Another amazing feature which makes this machine to be referred to as heavy-duty its durable metal construction that makes it more long-lasting. Furthermore, it has non-skid feet on the bottom that ensures its stability. It has also a fixing mount that fixes the position of paper thus giving your paper, files, and documents a professional look. Using this machine assures you of conserving your environment due to the presence of a waste bin that stores paper scrap at the bottom. You should, therefore, acquire this machine if you need a quick and nice job done.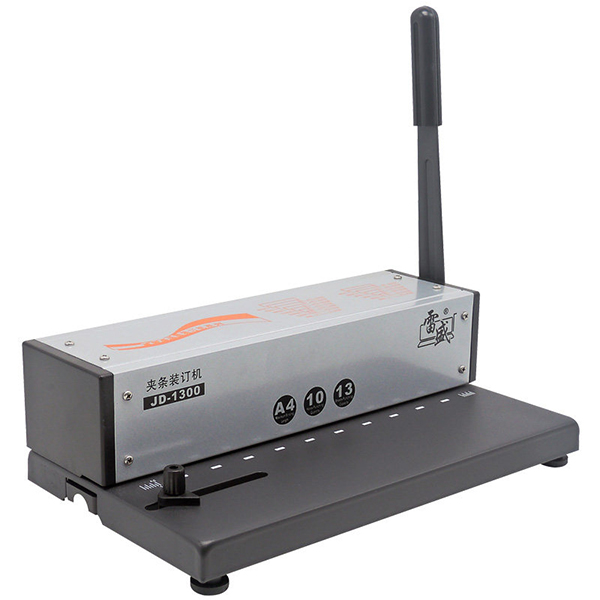 Originally published 08 Sep 2019, updated 08 Sep 2019.