This type of binding is the one which uses heat to make a low cost but highly professional style for your documents. Thermal binding lets you easily add or remove pages that have been bound. This is only one of the highly effective desktop binding solutions we have.
Unlike a heavy duty stapler, a thermal binding machine can bind many files in 1 minute. A very clean and professional look for your files is produced by the glue used to seal the spine. How can this function? It's really quite easy. In fact, it's probably easier than most other types of binding. With the adhesive already at the spine of the cover, you add your document set the cover spine down in submachine and touch the start button. That's all.
The device will heat and liquefy the "paste" glue that has been pre-applied at the spine of the cover, so it binds to the paper you have added. The cycle is will be completed in less than a minute. Once it is finished, you will need to allow your record cool for a couple of minutes so the glue sets and create security for the paper.
Thermal binding is a permanent type of binding, which appears very professional, but it is not so simple to add and remove pages -- although it's possible by reheating your spine.
Here is a quick guide containing step by step instructions.
Print out your documents and choose the right Cover size.
Place your document in the Cover and run it.
Put your document, spine side down, in the Thermal Binding Machine.
Press the start button. The thermal machine will alert you if the procedure is completed.
When the binding cycle is complete, place your file on the rack used for cooling.
When the glue is cooled, your documents are prepared for usage.
There are many Thermal Binding Machines on the current market, but we've discovered that the RAYSON thermal binding Machine WD-40A will provide you with the very best value.
What are Thermal Covers?
Well, the clue is in the title. These are document covers that have a pre-applied adhesive "adhesive" strip from the mill, specially made for your new thermal binding system.
Advantages of thermal binding machine.
It appears very professional.
It is quick, usually taking around a minute or less.
No Punching Paper.
Bind several Documents at on time.
If you are seeking to bind something, then that is certainly the ideal choice as it produces quite excellent results in a brief time with minimal work. You'll need thermal binding if you need your novels to be bound, and it will also be used by several print shops to replicate documents. University dissertations look fantastic when thermal bound, attorneys can even use it when sending files to the courtroom and also to clients as it's difficult to remove pages as it will be evident if somebody has done such.
If your workplace regularly generates brochures and catalogues and you would like them to look sleek and appealing, then thermal binding is a good option.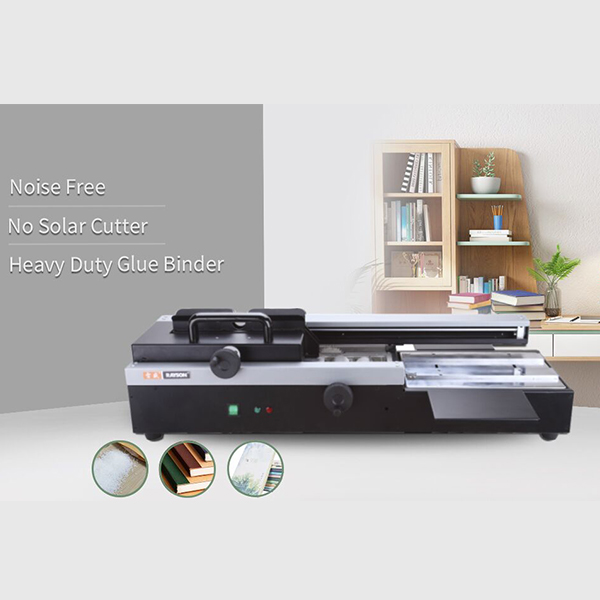 Originally published 12 Aug 2019, updated 12 Aug 2019.