Comb binding is an effective technique for helping you merge different sizes of documents. This inexpensive and straightforward technique has an advantage over other binding machines, as it can easily be re-opened in a bid to remove or add pages.However, for you to enjoy this perk among many others, you need a comb binding machine such as the SD-1201.This particular machine is specially built to help you add a dash of professionalism to your documents such as proposals, reports, and presentations among many others. In fact, it is part of Rayson extensive product category, which includes heavy duty stapler and laminator.Here is a look at how you can use the SD-1201 comb binding Machine.
How to use the SD-1201 comb binding Machine.
First, ensure that you place the machine on a stable workbench at home or in the office, for maximum support when punching and binding documents.Then, make several adjustments to your machine, including disengaging punching dies as well as adjusting the punching margin depth and guides. The next step involves assembling all the documents you need to bind together. Also, do not forget to include the front and back covers before inserting the first stack of papers set to go through the punching process. For the SD-1201 comb binding machine,the maximum number of sheets that can be punched at a time is 12. As such, it is advisable to insert 80% of this number to avoid quick wearing out of the machine.
Once you are done punching all the papers by pulling the steel handle, set them aside in the right order to prepare for the binding process.You can first jog your papers to make sure that all the holes are correctly aligned.Then, take your preferred plastic binding comb and place it in the SD-1201 machine's comb opener.Bear in mind that the opened side should face upwards.Now carefully lay all your punched papers on the opened spines and release the machine's comb opener to close the plastic binding comb.Once that is done,remove your book from the machine and call it a wrap!You can now make another book following the same process to get the hang of it.
Points to Note!.
Use the comb binding machine as per the stipulated instructions and ensure that you clear its paper box after you are done.What's more, avoid overloading the sheets of paper to prevent machine damage.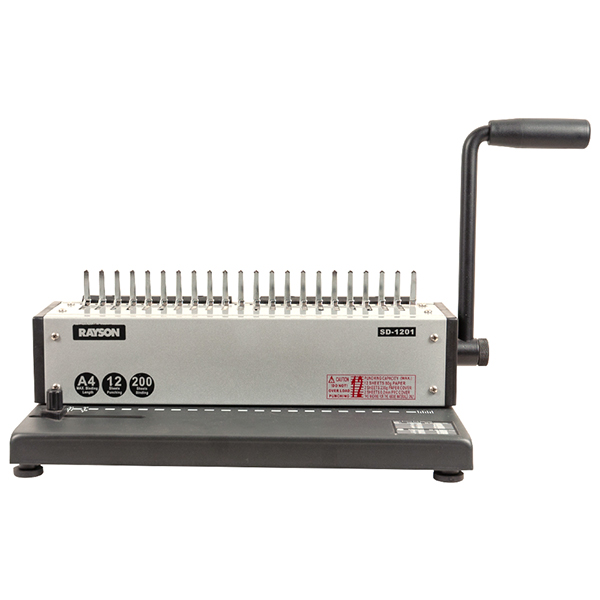 Originally published 19 Sep 2019, updated 19 Sep 2019.