electric stapler is one of the most impotant equipment in the market presently.It is sold both in traditional stationery markets or stores as well as on the internet. Many offices make use of staplers on a daily basis. Different office activities require sheets of paper to be bound together and the electric stapler ST-100G is capable of doing this.
There are two major types of staplers namely the Manual and Electric. Both types are used in offices around the world as they perform similar functions. This particular product is very conspicuous as it is an electric type characterized by double head, flat/saddle stapling mode and it is heavy duty. It is a clip electric stapler which is capable of binding many sheets together numbering up to about forty sheets at a go. Its physical appearance is made of a metal body which is sturdy and durable with a desktop double head design. Having a metal widening workbench, the ST-100G is user friendly as you don't need any special training to operate it. Its interior is characterized by a performance driven stapling mechanism and inner rail which enables it stand out among other similar products.
Judging from the foregoing, it can be seen that the ST-100G is an office equipment with modern design and capabilities. The advantages of using this product explain why it is one of the most sought after electric staplers in the market. Let's take a look at these advantages as they are listed below. There are several key benefits that can be enjoyed and taken advantage of when using the ST-100G. They are listed below:
Saves a lot of time: this is one key benefit as time is always of the essence in the world of business. It helps save a lot if time in the long run especially for organizations who have to staple piles of paperwork frequently throughout the day.
Same Results Less Efforts : the use of this electric stapler produces the same results as the manual one but requires less effort. For people who staple frequently throughout the day, they will understand the essence of saving energy. External force needs to be applied on manual staplers unlike with their electric counterparts.Using an electric stapler can improve your work efficiency.
Saves Cost : the use of the ST-100G helps save cost in the workplace. Rather than buying different individual staplers for employees, purchasing units of this brand will increase speed and efficiency as it is a double head electric equipment.
Specialized function : it can be used to perform a special function in publishing called saddle stitching without the need for a specialized piece of binding equipment.
Stapling a few pages of a report together may not sound particularly hazardous, but performing that motion two hundred times can lead to a repetitive stress disorder. This is why the ST-100G is your best bet for maximum utility.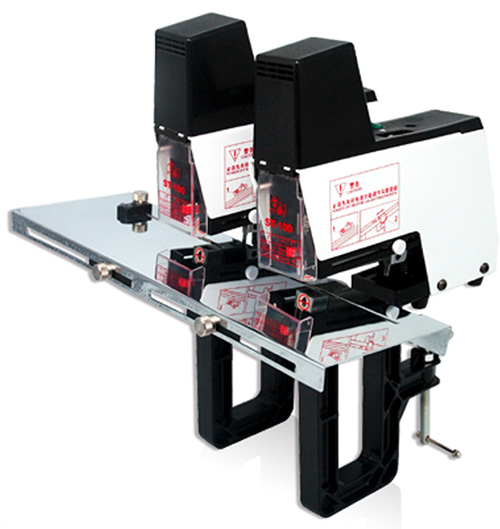 Originally published 25 Aug 2019, updated 25 Aug 2019.