Binding is a commonly used word to many people who deal with paper work in their day to day activities.As a general term,binding is just an activity of holding pages of a booklet or a document together.Binding is generally a process that begun by twisting the spiral binder through the holes of a document or a book.These spirals were either made manually by hand or electrically.As evident from the history of binding,the first perfect biding was invented in 1895 and later used until 1931 to bind books.This was evident when Albatross Books,a German Publisher who introduced the paperback books as a final copy on binding.There are several ways of binding a book or a document.One of the ways is by the use of spiral binding.
Spiral binding is a type of binding that involves holding pages of a booklet together by the use of spirals which may either be plastic looped or a wire.This type of binding has been the most preferred book binding method since it allows a document to have a 360 degrees rotation when in use.There are various types of coil binding machines.These machines come with a variety of sizes and shapes. In regards to the various types of spiral binding machines,Rayson spiral binder is one of the types of spiral binders that have been greatly on use in the market.
Rayson spiral Binder is a professional and stylish machine that has an electric and manual way of operating.
Rayson spiral binder is extremely unique in such a way that it can operate manually and can punch up to several sheets of paper at a time.Spiral binder as the word suggests"a professional machine" it is made in such a way that it provides a two way mechanism.This binder has the ability to punch and bind sheets of papers in a continuous manner.With that unique character it makes it a very fast working binder which can operate under bulk paper work.The spiral binder has an adjustable edge guide that ensures that there is an accurate alignment of documents being folded.It is made with a heavy metal to increase its durability.It also comes with a non-skidding feet below its structure to create stability while operating.It has also a unique waste bin structure below it that is used to store paper scraps.This makes the machine to be environmental friendly.
Rayson spiral binder is easy to maintain since it comes with an oiled cutting blade that preventing rusting on the punch die.On the usage part of it,one is recommended to punch using an oiled paper to prevent stain contamination on any important document.This electric and manual operating machine such as the electric stapler have been widely used but they have really been out of market for some time. It's the high time for one to realize what he/she is missing in the company.Rayson spiral binder is the ideal choice that will never leave you searching for more from any other binding machines.Rayson spiral binder is a fast and professional machine that will leave your work looking attractive and stylish.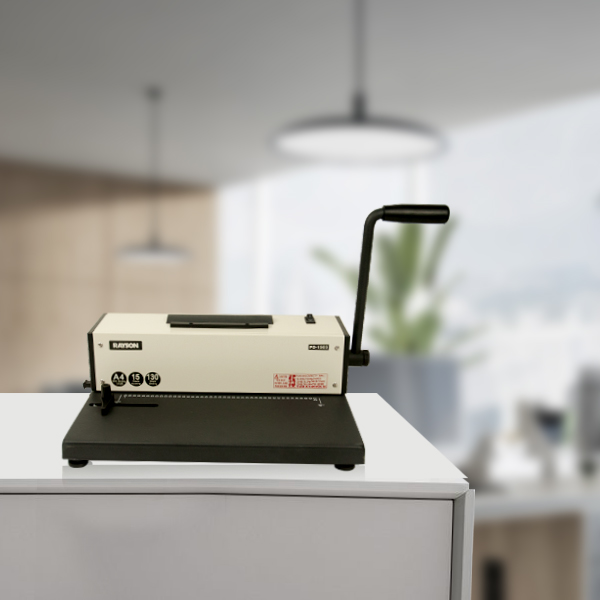 Originally published 24 Sep 2019, updated 24 Sep 2019.