The Rayson comb binding machine SD-2501B21 is an innovative stationery which is useful in binding reading and writing material. This model is a fully-functional wire binding system which is long-lasting and quite resourceful hence it has become a desired product in most offices. The design of the model is also modernized thus making it as easy to use and maintain just like an electric stapler. Additionally, the wire binding machine is operated manually and the Rayson SD-2501B21 is equipped with two handles which makes it efficient as it can punch up to 25 sheets per time. Such capabilities are useful especially in an office which is characterized with large amounts of paper trail. Moreover, the Rayson SD-2501B21 has the capability of binding 400 sheets A4 size. A unique feature of the comb binding machine is the fact that it is fitted with an adjustable depth margin which may be switched between three positions that is, 3mm, 6mm and 9mm. This model makes use of the conventional comb binding spines which ranges between 6mm to 20mm.
In order to achieve an accurate punch when using the Rayson SD-2501B21, the paper loads vertically into the binding machine. Besides, it is a portable puncher + binder 2 in 1 machine for easy handling and completion of tasks.For professional looking binds, the machine comes with a fixing mount which the user can use to fix the position of paper, file or letter. The designer of the machine also took into consideration the need for cleanliness. Accordingly, the SD-2501B21comes with a waste bin right at the bottom of the machine to collect the pieces of paper and all the waste for easy cleaning. Additionally, the comb binding machine is compatible with comb binding supplies.The binding material includes coated paper, printing paper, PVC film to mention but a few.It weighs approximately 14.2kgs and its measurement in (mm) is 456*270*446.
The first set up process for the Rayson SD-2501B21 is ensuring that the machine is placed on a flattened and steady surface. The next step would involve ensuring that the paper waste tray has been fitted properly. Additionally, it is important to ensure that the paper stopper is adjusted in accordance with the size of the paper that is being used.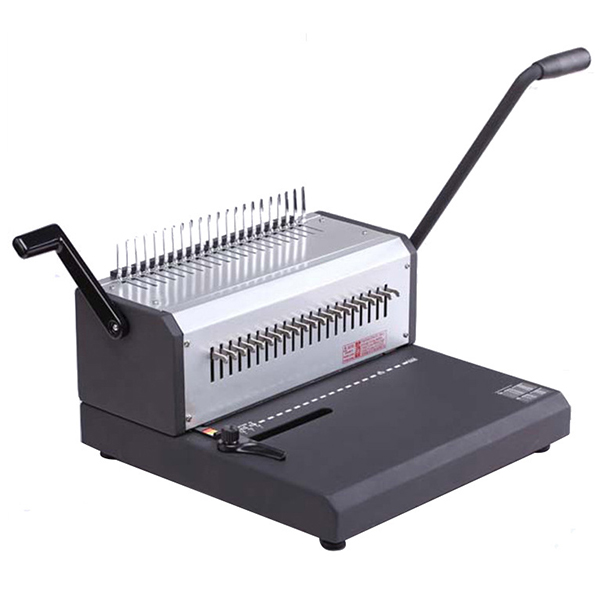 Originally published 21 Sep 2019, updated 21 Sep 2019.