Rayson is best known for producing modern office automation machines like electric stapler and wire binding spines. By then, the whole world can feel the convenience provided by our products.
Next, we will introduce the instructions for using wire binding spines.
Wire Binding Spines
(Rayson's model in TD series)
Wire binding spines uses metal wires (two per hole punch) that are bent together by the binding machine after the paper is punched and put into the wire ring.
You can wire bind in two sizes or pitches 3:1 and 2:1. The larger is 2:1 pitch and will bind document up to about 300 sheets.
Prices for wire binding machines will vary based on the size of documents they can bind (you'll need a machine with disengageable die if you need to punch legal size documents) and whether they manually or automatically punch and insert the coil. Most wire binding machines do one pitch or the other.
Wire binding spines and electric stapler are professional looking and durable. They're suitable for law offices, real estate agencies, and anyone who needs to bind larger documents.
The quality of electric stapler and wire binding spines have been recognized generally around the globe and they are popular with customers. We expect to achieve great successes together with our worldwide agents and dealers!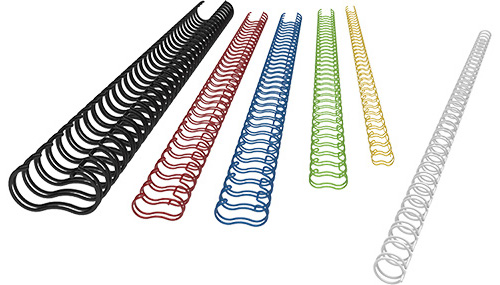 Originally published 07 Mar 2019, updated 07 Mar 2019.