A spiral binding machine uses a spring-like spiral or coil to bind a book. You can compare the coil with the staple pin of a heavy duty stapler
A spiral binding machine is easy to use, and you can conveniently bind your documents without having technical knowledge.
After finding the best spiral binding machine, you have to operate this device in a proper way.
Significantly, the proper operation will provide you expected service, and it will be safe for your documents.
Here, we present the step by step guide for operating a spiral binding machine to get professional and high-quality results.
Step by step guide to use a spiral binding machine
1. First, Put the machine on a flat surface, and set the coil with the perfect margin depth.
2. Make the book ready that you will blind, and include a cover sheet and back cover with it.
3. Select the book that you want to punch, and make sure that you take the same paper that is compatible with the capacity of the machine.
4. Now, punch the stack of paper and make sure that every whole of the documents is in proper order.
5. Next, spin the coil into the machine, and insert the spiral through the holes of the paper.
6. Cut off the over long part of the binding ring on both ends of the book.
7. That's it! You have completed the binding successfully.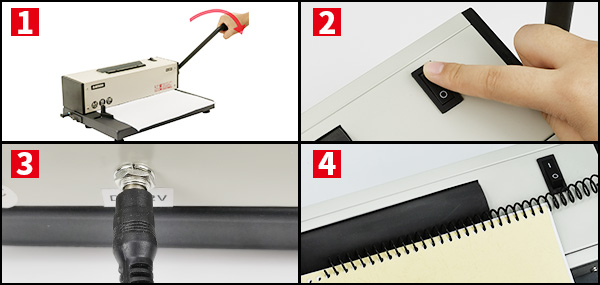 Rayson offers several models of spiral binders that are easy to use and comes with durable design.
Sources:
1. Binding -- Wikipedia
2. Spiral binding -- Wikipedia
3. Coil binding -- Wikipedia
Originally published 23 Nov 2020, updated 23 Nov 2020.