ST-100 is an exclusive production of Rayson, it has a metal body. It is a sturdy and durable heavy duty stapler that is easy to use and operate. A beautiful and practical design that has a dual purpose; flat and saddle stapling. For dual-use the fast switching between flat and saddle stapling modes is offered. It improves binding efficiency also helps in saving time and effort.
For saddle stapling pull up the safety cover and the slot, load the slot with the recommended staples. Adjust to the saddle stapling mode. By using the pressure knob controls choose pressure from light to heavy. Next up from 1-9 position adjust the binding strength to suit your binding thicknesses. Push the lever down manually and get saddle stapling.
Use the following staples for the stapler: 23/6, 23/8, 24/6, 24/8. This model is suitable for stapling, pinning, and binding. It has a soft grip finish as well as a non-slip base. This Heavy-duty stapler offers an impressive 30-40 sheet stapling capacity. It will help in increasing your productivity, a dependable stapler that will help you get the job done in no time.
The saddle stapler is also equipped with a safety cover. If the cover is open, it will not staple, these safety covers prevent any injury. Also, it will help you in making booklets, pamphlets, reports, and various documents, etc.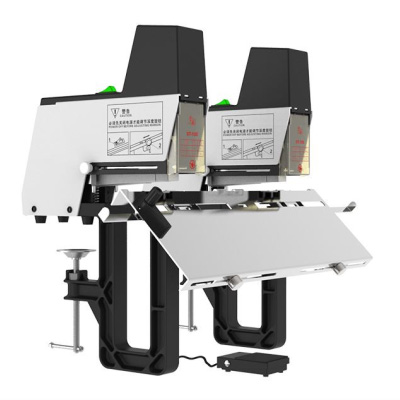 Originally published 13 May 2020, updated 13 May 2020.