Heavy Duty Stapler is purpose built for high usage office environments where large quantities of paper need to be stapled together. Sometimes a heavy duty stapler gets jammed at some point. For example overload your stapler with staples or insert more pages than your stapler can handle. This is a common cause of staple jams. So most heavy duty stapler problems are caused by rough use. If you need to fix a jammed heavy duty stapler, please read carefully first the instruction manual booklet to ensure the size of staples and how many paper can be stapled.
Removing a jammed staple is very easy, but it does increase in difficulty with the size of the staples, and a heavy duty stapler can have up to half-inch long staples. For this stapler, use needle-nosed pliers rather than tweezers, as you would on a small stapler.
Manual Heavy Duty Stapler and Electronic Heavy Duty Stapler is a bit different, when you fix the jammed problem.
To fix a Standard Manual Heavy Duty Stapler, first you should grasp the top arm of the stapler and pull it up, away from the stapler base. Some types of heavy duty staplers have a button toward the back of the base that will release this upper arm, while other models simply slide up. As the arm slides up, it exposes the refill tray.
Move all of the good staples that you can grab back from the head of the stapler and remove them temporarily. Use a tweezers or a needle-nosed pliers to pull as many of the staples from the front of the stapler out as possible. You should get the very first staple at the front, which is probably lodged in.
After that insert a new sheet of staples into the staple refill tray. Make sure the feed line is not jammed with bent staples. Swing the top arm back down, as if you want to staple a document. Perform a test staple to make sure your stapler is ready to go.
To avoid any jammed problem you should choose an advance Heavy Duty Stapler. Just like our Rayson Heavy Duty Stapler. If it is used according to the instructions, our machine comes with a jam free guarantee. Most heavy duty staplers in our store can be transitioned from flat to saddle and back to flat stapling with a few adjustments. Jam-free is very important designed.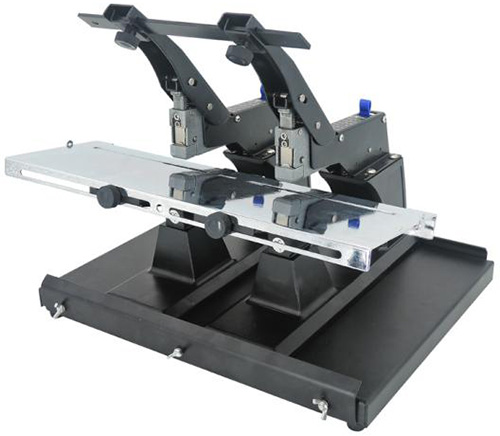 Originally published 20 Apr 2020, updated 20 Apr 2020.