In our life, here a lot of opportunities to do some binding by ourselves. If you're a new to the world of printing, knowing which type of binding is right for your project by yourself will be difficult. To make your life a little easier, here's a quick run-down of some of the most common binding options around.
First, what you need is decide what kind of binding you do need for your print project. So next let us put together some technical specifications about binding so you can find your way around the print and Print Finishing industry and we have collated some of the best bindings in design, so you can see it from all angles before making a decision.
Saddle Stitching – Heavy Duty Stapler
Among binding options, saddle stitching it also known as Saddle Stapler is one of the most common binding methods. It is fast, affordable, and easy to flip through. Often seen in brochures, handouts, calendars, and small catalogs, it involves stapling your printed sheets together at two or three points on the fold. It's a quick, yet effective solution for projects without a spine. The commonly used paper for inside pages is 80g copy paper or coated paper. The cover materials are leather paper, copper paper, matte paper, pearl paper, white cardboard, etc.
Perfect Binding --- Thermal Glue Binding
Due to its good flatness, a large number of books and periodicals use this binding method. Through a special adhesive, the exquisitely designed cover is bonded with the contents through the punching of the binding machine, and bound into a booklet. Perfect binding makes an excellent choice and gives your piece a high-end look and feel. The inside page is generally 80 grams of copy paper, and it can also be printed in color on coated paper. The cover includes leather paper, copper paper, matte paper, pearl paper, and white cardboard. Ideal candidates for perfect binding include large books, instruction manuals, catalogs, and magazines.
Case bound
The standard binding method for hardback books, case binding is the perfect choice for high end projects and documents that require an especially polished finish. There are a few different types of case binding, but in general, the inner pages of the document are sewn together in sections before being glued to end papers which are themselves then glued to the book's cover.
Lay-Flat Binding
One shortfall of perfect binding is that the books cannot lie flat and stay opened due to the coverage of the adhesive. As it name suggests, lay-flat binding bypasses this issue by using expanding glue that only adheres to the edges of the spine. This can save your customers a lot of time and frustration, especially for instructional print projects such as software manuals, building guides, or cookbooks. Lay-flat binding usually costs more and takes longer than perfect binding, but the payoff is worth it.
Wire-O Binding and Spiral Binding
Traditionally used with notebooks and agendas, these wire bindings provide the greatest flexibility in terms of page-turning. Although Wire-O and spiral binding may appear similar, the difference lies in the number of loops. Wire-O uses many binder loops that run parallel along a single wire. Spiral binding uses only one plastic or metal loop that spirals through pre-positioned holes in the covers and pages.
Both bindings allow the book to lie flat without curvature. However, wire bindings generally cannot hold too many pages, and new pages cannot be added. But if you are looking for a quick, professional binding option for a business meeting, trade show, or other venue to showcase your brand, wire binding makes an excellent choice. Additionally, plastic coil bindings come in various colors to match your organization's brand image.
Comb Binding
If your project calls for durability, flexibility, and adjustability, consider plastic comb binding or RAYSON binding. Like wire binding, the pages are first pre-punched to accommodate the plastic comb. The cylindrical comb can hold many pages, and allows for removals or additions as necessary. You can also print on the RAYSON spines, adding to your project's professional appeal. Comb bindings also come in a variety of colors to match your company's brand identity.
According to your binding requires, the last step what you need to do is choosing a right binding machines: stapler, thermal binder, wire binding machine, comb binding machine or spiral binding machine. Binding machines are available in both manual and electric styles. If you only have a few projects that require binding, or items to be bound are only a few pages long, then a manual binding machine may be the right choice. However, in a situation where you have a large volume of materials to be bound or your projects are rather lengthy, it makes more sense to go with an electric version.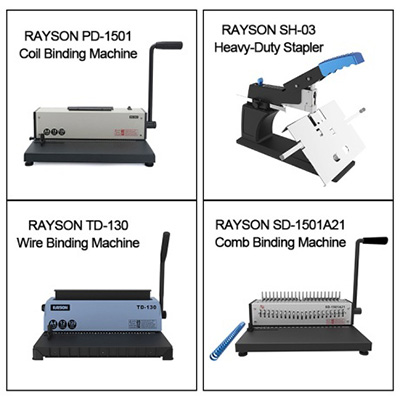 Originally published 23 Mar 2020, updated 23 Mar 2020.