When you hear of a saddle stapler, you may feel strange.This tool is used for bookbinding Various chores, so unless you're producing catalogs, instruction manuals, or large brochures, otherwise you don't need this tool.As a booklet stapler, this tool is an office supply essential item!This is the best choice for you to expand your market rapidly and to use low-budget and efficient tools.
What makes the saddle stapler unique is the A-shaped platform that is part of the stapler's design.
This the latest model stapler will help you quickly produce catalogs, booklets, diy binding, and other print materials for distribution.
It staples up to 30 sheets at a time and features no-jam technology that really works.
It binds pamphlets, brochures, and other materials. Staples of various sizes can be used(23/6,23/8,23/10,24/6,24/8,24/10), so there won't be any extra unexpected costs.
It has long-lasting durability because of the all-metal construction of this design.
If you've been struggling to put together your print materials with other staplers, then consider giving this one a try today.
What is a Saddle Stapler?
There is no saddle stapler in average office and average home office.In some cities in this world, you'd be hard-pressed to find an office use this tool.
Why are so few people using saddle stapler?
For many,It comes down to three points.
First price. A saddle stapler has a larger base than the average stapler and meets specific niche needs, which means it is more expensive.Saddle stapler could cost up to10x more than standard office staplers.
Second Function.Not every office needs to be able to bind magazines,booklets, brochures,documents, and other print material.
Third Use.Nowadays, many businesses choose to outsource their marketing materials which means they are limited to printer.
You do not need your own saddle stapler if the contracted printer is working for you.
As with standard office stapler, all you have to do is slide in your document or flexible materials and press down on the stapler lever.The A-shaped design of the base naturally guides the staples to the correct location if you've stabilized the item being stapled.In return,you don't need to spend a lot of budget to create a product with a professional look.There are three basic uses of saddle stapler, as a booklet stapler, as a standard stapler, or as a heavy duty stapler.Some commercial/industrial grade saddle staplers have dual or triple heads so that you can place multiple staples at the same time.Although some heavy riding staplers can bind up to 55 standard 20 lb sheets of paper at the same time, it is an ideal solution for 40 or fewer booklets.
How to Choose the Best Saddle stapler?
When you have the best saddle stapler, you are able to turn your work projects into an incredible masterpiece.By binding brochures with high quality, firmly seaming the fabric, and use it with any center-folded materials that could benefit from a perfectly placed staple which can make your work look more professional.
So how do you choose the best saddle stapler?
When purchasing essential office tool, you are gonging want to look for some features.
1.A strong system of fastening to your work surface. You do not want the stapler to slide while you are working.You need to find a saddle stapler that can be safely fastened on various types of workbenches.
2.High capacity stapling performances. You should choose a high quality saddle stapler that can stapling at least 30 sheets of 30 pound paper.
3.Saddle stapler shall be of metal construction. You will have a stapler like a tank. This sturdy and durable structure will help you create thousands of booklets. The padded base on the metal housing can protect your work surfaces from damage.
Your copy machine or business hub is likely to have built-in stapling capabilities.That's a wonderful time-saving feature when you're printing out standard documents, need to do some collating, and other "normal" office chores. The best saddle stapler will help you with the extra work that other standard staplers can't do.
What can you do with the best Saddle Stapler?
Why does the office have to have a Saddle Stapler because it is an effective booklet stapler. You can print your own marketing materials, provide instructions to consumers, or create in-depth research for sales and marketing presentations on the cheap because of this tool. Just print out your documents, use the saddle stapler to find the middle of the document, and you've got yourself an instant booklet.
Just one person,A Saddle Stapler, a computer and a printer can produce hundreds of booklets every day.
The saddle stapler doesn't have to just stay in an office setting in order to be effective. People who work with fabrics, for example, can take advantage of the A-shaped design of the saddle in order to staple seams. This is because the fabric bunches up within the saddle so the staples can be perfectly placed. Any other flexible materials receive the same benefits.
Price of mainstream brand Saddle Staplers Today?
This is probably the most expensive manual stapler you've ever seen.
Entry-level pricing for saddle staplers tends to be around the $75 price point, though many basic models are priced above $100. Swingline and Rayson have standard models that are priced around the $175 mark.
If you want something that is heavy duty for long-term booklet stapling, then expect to pay at least $500 for this tool. Models from Staplex or Rapid can easily exceed $1,000 depending on the design of the unit.
Summary
The best saddle stapler will help you find a creative way to save money while creating professional documentation.
We are facing the era of ever-changing information.
We can use these flexible tools to better adapt to the development of the times.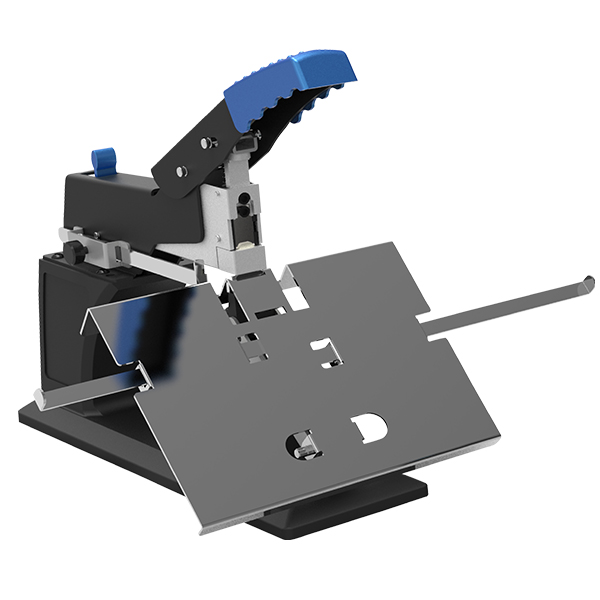 Sources:
1. Best Saddle Stapler Reviews (2019) Reviews Of Our Top-Rated Tools -- stapleslinger
Originally published 28 Oct 2019, updated 28 Oct 2019.