There are several different ways to "staple bind" your paper together, including basic office staplers that press a metal staple into your stack (usually placed on the corner or edge), saddle stitchers that use a spool of wire and cut and sew it into the spine of a folded stack of pages, and booklet makers that will fold your pages into a booklet and the staple the spines. There are also combination machines, like heavy duty saddle stapler that let you spine staple without needing an actual stitcher. These methods of bindings are used a lot of churches as well as with publishers and magazine binders. Saddle stitching is a very popular book binding method that allows you to produce professional-quality books, catalogs, directories, pamphlets, promotional brochures, newsletters, wall calendars, and so much more. Booklet making can be simple with the right equipment at the ready.
Follow up the steps to bind books with Rayson SH-03 manual Heavy Duty Stapler. The advantage of SH-03 heavy duty stapler is it is flat stapling & saddle stapling mode 2 in 1. With performance driven stapling mechanism and inner rail. Jam-resistant (no jam), accurate Flat Stapling 60 sheets of 80gsm (20 lb) and Saddle Stapling up to 30 sheets of 80gsm (20lb) paper per time.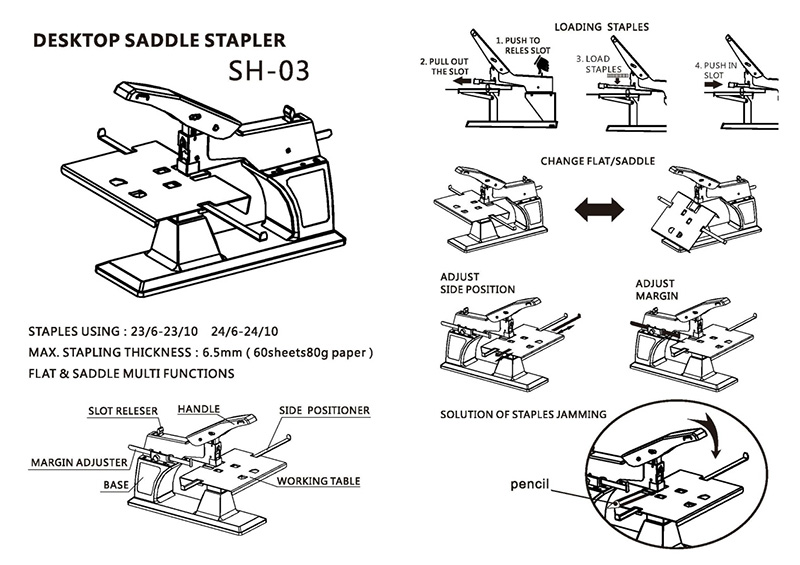 Originally published 30 Apr 2020, updated 30 Apr 2020.