Electric heavy duty stapler is efficient alternatives to using traditional, manual heavy duty stapler that is still being used both in home and work environments. However, the increasing popularity of electric stapler has forced many people to start paying close attention to these alternative models in recent years. One of the reason to use this type of stapler is that it will help you save a lot of time. Electric stapler is practical for repetitive work such as assembling boxes, assembling hard documents and so on. It is also recommended for people with fragile wrist or less strength in their hands and arms.
If your office staples documents regularly, an electric heavy duty stapler is arguably a necessity. Doing a lot of stapling isn't fun and even the best of us get a bit tired, bored and make mistakes. An electric stapler won't. So let's introduce today how to bind book or other document with electric heavy duty stapler.
Many electric staplers work by using a solenoid, a type of electromagnet that looks like a tube made out of coiled wire. When it's turned on, a spring-loaded 'hammer' is pulled up into the tube and kept in place by the electromagnet. When the solenoid is turned off, the spring drives the hammer downwards and onto the staple. No human needed to thump it or lean on it.
But for an electric heavy duty stapler there is more function. For example with flat stapling & saddle stapling function. You can use it as a flat heavy duty stapler or saddle stitch stapler. You can bind paper in 2 stile. With performance driven stapling mechanism and inner rail always delivers jam-resistant, accurate stapling.
Even using an electric heavy duty stapler is more efficient for stapling, but using steps are not the same as using a manual stapler. Following is adjustment of impact strength of RAYSON ST-100 heavy duty stapler:
1. Turn on the Power switch to position I. The pilot light in the button comes on.
2. Do a trial stapling.
3. Check the result of stapling. If impact force is too weak, the staples cannot be bent insufficiently.–Turn the Impact adjust knob to a lower figure. Be careful, too strong impact force will make unnecessary noise and increase wear. Correct adjustment will keep machine long last using and minimum noise.
4. Never staple without stapling material–Otherwise staples will get stuck in the stapling slot.
5. Never staple over the Maximum stapling capacity - Otherwise the staple could jam in the stapling slot.
6. POWER CONNECTING --- The voltage is specified on the Main label . Before connecting the unit, make sure that the voltage marked on the main label complies with city power voltage. Turn off the Power switch when not in use.
Just so easy and sooner to staple with your RAYSON electric heavy duty stapler.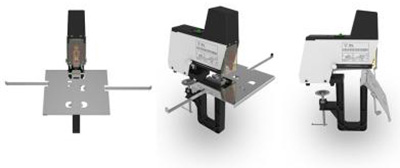 The benefit of electric heavy duty stapler is primarily aimed at businesses and professionals that need to use staplers frequently throughout the day as they are filing and organizing different types of files and documentation. Within the average home environment, stapler is not used very frequently at all so you really would not be able to save a lot of time by using one. However, there is definitely a noticeable difference within the workplace.
When purchasing an electric heavy duty stapler is the fact that it can also save a lot of money in the workplace when it comes to purchasing office supplies and equipment. Instead of purchasing ten individual staplers for all of the employees within a single office, for example, it may cost much less in the long run to just purchase one single electric stapler that the entire office can use together.
Therefore, it can be experienced by making the decision to invest in an electric stapler including the time, money and effort that you will be able to save by doing so.
Originally published 12 Apr 2020, updated 12 Apr 2020.