Heavy duty stapler can staple through multiple sheets of paper and ideal for stapling through other materials such as fabric and plastic. The heavy duty stapler can also save the work of binding multiple documents. It is the ideal solution for busy offices.
There are two main kinds of heavy duty stapler: manual and electric. If you are preparing for a large presentation or merging documents for handouts, stapling pages over and over will put you under a lot of pressure. When using a heavy duty stapler, the internal lever changes the simple push of the handle into a great force. If you use an electric stapler, you don't need to do anything to get the staple run through the papers.
Manual staplers are very suitable for home and office use. They have multiple designs and are the cheaper of your two choices. They can staple staples into many pages, but they do require your physical strength to drive the staples through a stack of paper. They are more suitable for smaller and infrequently used environments, and repeated use within a short time may cause stress.
Electric staplers are more suitable for larger jobs (will also handle smaller jobs). Using manual models, you are using your own power. For electric models, there is an attached motor that drives the staples into the paper. They usually have the ability to load staples of different lengths, allowing you to drive staples through large piles of paper.
Electric staplers are more expensive than manual staplers and use power to drive staples, but make stapling easy and fast.
In Rayson store, no mater manual or electric heavy duty stapler, there is a flexible front loading in the machine which allows for either flat stapling or saddle stapling for booklets. 2 in 1 model design can be transitioned from flat to saddle and back to flat stapling with a few adjustments. Maybe you don't have heart about it. Don't worry, we will show you some styles of these machines.
| Model | Staples | Power Supply | Installation Method | Flat Stapling | Saddle Stapling |
| --- | --- | --- | --- | --- | --- |
| SH-03 | 23/6,23/8,23/10,24/6,24/8,24/10 | Manual | Desktop | 60 sheets | 30 sheets |
| ST-100 | 23/6,23/8,24/6,24/8 | Electric | Clip desk | 40 sheets | 30 sheets |
Tips for Warranty:
Many heavy duty staplers will come with a warranty, but not all warranties are equal. A lifetime warranty is what you want, as this indicates a lot of faith in the product.
You can easily find this if you go through the online seller's page before purchasing. If ever you are deciding between two heavy duty staplers, then the warranty can often be the deal breaker.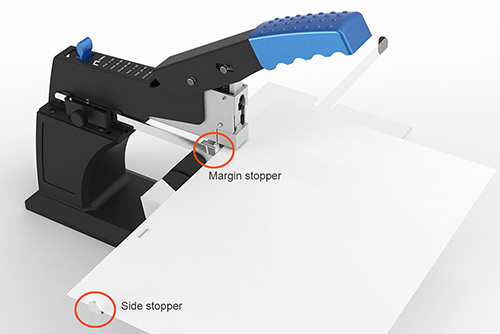 Originally published 23 Apr 2020, updated 23 Apr 2020.