To create a workbook, handbook, proposal, reference document, marketing and sales manual or annual report, the cover and pages are held together by several types of binding machines. Bookbinding is an artistic craft of great antiquity, and at the same time, selecting the right binding machine will help you to create a piece that's cost effective, long-lasting and stylish. The binding machine is usually selected by the function of the documents. Here is a number of binding machines used for bookbinding.
Heavy Duty Stapler - It's probable the easiest and the most economical binding method. With this type of binding, you need to have a heavy duty stapler. It is with flat stapling and saddle stapling function and can be used to staple fabric or other flexible material, as the material is bunched up inside the throat in order to reach the seam to be stapled. Saddle stapling is also known as saddle stitching. Affordable and effective, saddle stitching is one of the most popular types of binding for lightweight booklets, brochures and magazines. Heavy duty stapler comes in both electronic and manual formats.
Click Binding Machine - Allow the pages of your documents to rotate in a full circle. With a click binding machine, this innovative binding style gives your documents a truly professional look by hiding the spine inside the finished document. Click binding spines lets pages turn easily and lie flat for easy note taking and photocopying. 360degree rotation allows pages to be completely wrapped around.
Thermal Binding Machine - Uses heat to bind pages. Very professional looking but more expensive. Thermal binding also known as perfect binding. Making is suitable for a wide variety of publications, such as a 32 page magazine or a catalogue with several hundred pages.
Press Strip Binding Machine - To create a clean and impressive presentation. This type of binding was often used by print and copy shops.
What is the most popular binding method used today? Saddle stitching would be a more popular choice binding method for companies and individuals. The saddle stitch binding operation is performed after the pages and covers have been printed, partially folded and nested together. After being connected with staples, the cover and pages of the book will be folded tightly together. Some thicker Saddle Stitched books are trimmed along the edge opposite the spine to keep the pages uniform and neat in appearance. Books and other documents that are commonly Saddle Stitched include programs, wall calendars, booklets, newsletters, pamphlets, direct mailers, comic books, thinner magazines and catalogs.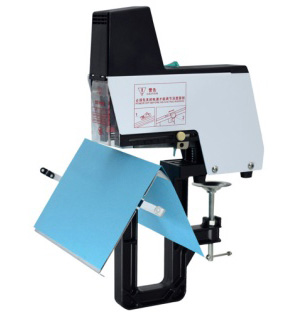 Originally published 23 May 2020, updated 23 May 2020.