The spiral binding machine is also known as coil binding, and this binding process is more durable than the binding of a heavy duty stapler
This binding solution is getting popularity these days because of its effective solutions. Spiral binding is widely used in workplaces, offices, copy shops, and binding stores.
Before using this organized binding method, it is better to understand how a spiral binding machine works.
It is a very easy and general way of binding for individuals or professionals.
A spiral binder creates holes with a punch in your document. Then, the pages are confined together with a plastic spiral that is inserted through the holes using a spiral binding machine.
The method requires a spiral regarding the size and dimensions of the paper that you want to bind together. This professional binding is suitable for significant use. The whole process will be completed within a few minutes.
At Rayson Manufacturing limited, we have a wide range of spiral binding machines with different capacities and price tags.
You can consider Rayson Spiral Binder PD-2000, PD-1501, EP-20 to make your documents or presentation professional. It will increase the durability of the files even after multiple uses.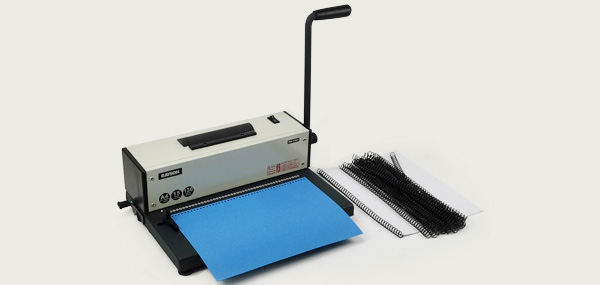 Sources:
1. Coil binding- -- wikipedia
2. Stapler -- wikipedia
3. Spiral -- wikipedia
Originally published 12 Sep 2020, updated 12 Sep 2020.