Wire binding machine, spiral binding machine, comb binding machine, heavy duty stapler, click binding machine etc. are purpose built for high usage office environments where large quantities of paper need to be bound together. The binding machine comes in both electronic and manual formats. To bind a document, wire binding is a familiar way to bind pages together. With this bind, the book lies flat, flexible, durable, large range of sizes and can be opened 360 degrees. This method uses round wire spines with 32-rings or 34-rings. The 32-rings wire-o binding spines max. bind with letter size paper and 34-rings wire-o binding spines max. bind with A4 paper. When having a binding machine, you might have a wire binder which comes with 34 holes, but is not with any disengaging pin, does it necessarily mean you can't punch US letter size paper? With RAYSON Binding Machine, the answer is "NO." It just means that you have two extra holes.
"How do you adjust RAYSON wire binding machine which did not come with any disengaging pins but it does work with letter size paper?"
If you are going to use RAYSON TD-130 wire binding machine for punching US regular-sized piece of papers which are 8 and a half by 11. You can set the Paper stopper to ensure the holes from 33 to 34 that there's not going to be anything punched out (no perforated). In this case, you will find this machine completed working as planned. It consider all the uses - office uses; recreational uses; business uses; school uses etc.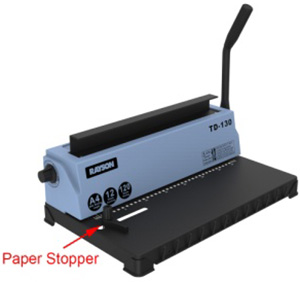 The Features of TD-130
◉ Manually punches up to 12 sheets (A4, letter size or below) of 80gsm(50lb)paper at a time. And binds up to 120 sheets (A4, letter size or below) of 80gsm (20lb) paper.
◉ Durable metal construction for long-lasting used. With 3:1 pitch wire binding rings or 3:1 pitch coil binding spiral to bind paper/notebook/booklet at home, office or any other place you want.
◉ Margin Adjustments – Rayson TD-130 has depth margin adjustments (2.5mm, 3.5mm, and 4.5mm), so you control where the holes are punched on paper of any size.
◉ Loads vertically for accurate punch alignment. Puncher and Binder 2 in 1 steel handle for easy working ,Non-skid feet on the bottom, stable and solid.
◉ Fixing mount can fix the position of paper which can give you paper/file/letter professional-looking binding. On the bottom there is a waste bin to store the paper scrap. Open and clean it easily.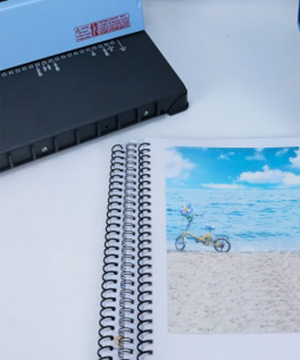 Originally published 17 May 2020, updated 17 May 2020.