Are you in need of a good wire binding machine that will perfectly solve your binding problems? Well, the RAYSON wire binding machine TD-130 is the best solution to your problem. This model is a high-quality binding machine that will give you ample time during the binding process.
The model TD-130 has so many unique features that enable it to be ranked among the best wire binding machines in the market. Durability is usually very important in any kind of machine. It is obvious that a durable machine will serve for a very long time without wearing off. This is so economical as you will not have to spend more on repairs or even acquiring another machine.
The TD-130 model from RAYSON ELECTRICAL MFG.LTD.is a perfect example of a durable machine constructed with pure metal that you should not hesitate to acquire. Another feature that makes the model TD-130 ideal is its portability. This wire binding machine can perfectly be described as a portable puncher plus binder two in one machine. This portability enables this machine to be suitable in either an office or at home. You can also carry it to any other convenient place where you can perfectly do your binding duties. This model is also so versatile and you can work on a variety of paper, notebooks, and even booklets. Furthermore, the work output of this machine is also amazing just like the RAYSON stapler.
This model is so efficient and it makes you see the value of your money due to the quality of work that it can do. Its efficiency is due to the presence of an extremely powerful manual punching mechanism. This super punching mechanism makes the binding process so fast and you will not have to waste a lot of time binding a single document. The wire binding machine TD-130 has the ability to punch up to 12 sheets of 80g of paper at a single. Its binding capacity is 120 sheets of paper. This model is also so simple to use and you do not need to undergo any special training to perfectly use it. For instance, you will not strain when inserting your documents due to the presence of a three-position adjustable depth margin and a wire holder whose main purpose is to make the insertion process easier. This machine is also so flexible as it is compatible with 3:1 wire binding supplies. The wire binding machine TD-130 is one of the best machines in the market that you should consider buying if you are in need of unique and professional binding.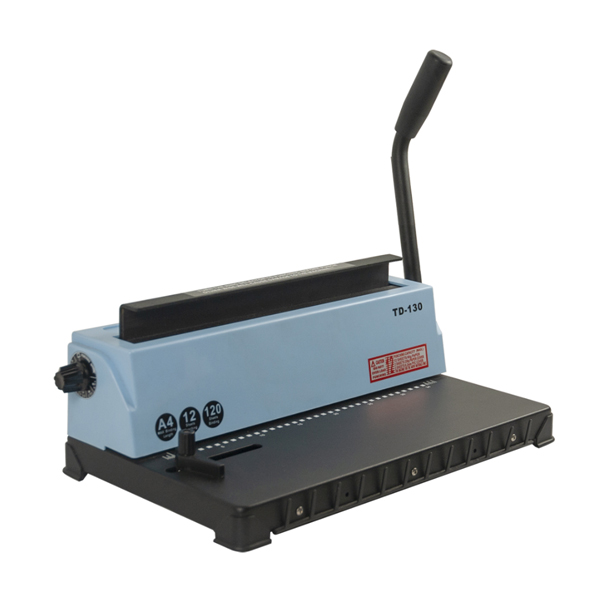 Originally published 04 Aug 2019, updated 04 Aug 2019.